Churchill Wwii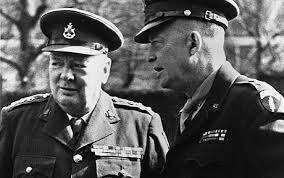 During the World War II, Winston Churchill (1874-1965) served as the Prime Minister of Great Britain. In addition to being a inspiring leader, Churchill remains one of the leading Prime Ministers in British history. After a career in public service, Churchill, as the leader of the Conservative Party, came to power shortly after the outbreak of the war.
During his career until 1940, Churchill held a number of government positions, including First Lord of the Admiralty during World War I. He also served as Chancellor of the Exchequer. He was reappointed to the Admiralty post and named a member of the War Cabinet when World War II broke out in 1939. A lack of confidence in the government of Neville Chamberlin that led George VI to ask Churchill to take the position in May 1940.
The war was going badly for Britain when Churchill became Prime Minister, but he refused to consider an armistice with Germany, declaring that this was Britain's "finest hour." His outspoken nature and refusal to back down endeared him to the British public, and his leadership served as a bedrock during the Battle of Britain, when Churchill declared that he had nothing but "blood, toil, tears, and sweat."
Despite leading Britain through World War II, in May 1945 British voters chose Clement Atlee as the new Prime Minister. Churchill served as the leader of the opposition before returning to the office from 1951 to 1955.
Related Research Paper Topic Suggestions