Boycott South African Sports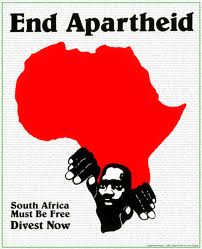 In November 1971, the United Nations General Assembly issued a resolution condemning South Africa for practicing apartheid in sports. This resolution declared that on the principles of the Olympics no individual should be denied the right to participate in sporting events due to discrimination because of race, religion, or politics. Furthermore, the resolution noted that since South Africa violated the Olympic principles, that all member countries as well as all major national and international sporting organizations should not only participate in sporting events in South Africa, but should bar South Africa from competing in international events for which South Africa selected its athletes in a discriminatory manner. Thus, nearly 25 years before the end of apartheid in South Africa, the United Nations recognized the existence of apartheid in South African sporting events and teams. Nevertheless, much larger discriminatory practices were routinely displayed throughout South Africa in terms of government, police, and military practices, business practices, and human rights violations. Thus, where the United Nations could have selected a much larger and potentially more devastating area of apartheid to address, it chose to address apartheid in sports. One would wonder, then, why sports were selected as a major area of boycott when business boycott's could have been considerably more devastating from a financial standpoint.
It can be argued that sports were selected as a primary boycott area at an early stage for two reasons. First, sports are an ideal target. They have widespread appeal and cross international borders. Furthermore, they appeal to people of all genders, race, age, socio-economic status, etc. Few other areas have such a widespread cross-sectional appeal to all demographics throughout the world.
Related Research Paper Topic Suggestions