Antivietnam War Sentiment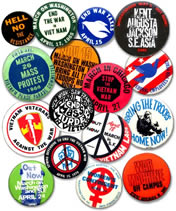 By 1967, the Vietnam War was very unpopular with many people in the United States, and groups that were organized to fight various forms of social injustice came together to publicly protest the War. These groups ranged from:
Anti-war Movement
Student groups played an important role in the anti-war movement in the United States. The Students for Democratic Society (SDS) were one of these groups, which defined itself as "the independent representative of the new student left" in 1962. The goal of the SDS was to bring about a fundamental change in American politics, and peace in Vietnam was a part of that change. Among the early leaders of the SDS was Tom Hayden, who helped to draft the group's manifesto, which was very critical of racism, nuclear arms, and intervention into Third World countries, such as Vietnam. The SDS and other groups were vital to organizing protest marches and other forms of civil disobedience. For example, in November 1968 SDS activists stormed a party in New York at which Secretary of Defense Dean Rusk was speaking, and they also played a major role in disrupting the Democratic Party convention held in Chicago in 1968.
Vietnam and American Social Issues
As mentioned above, there were many important social issues facing leftist American groups in addition to Vietnam in the 1960s, including race, poverty, women's rights, as well as other global issues. When the SDS met for its final national convention in 1967 and broke into several factions, including a group known as the Weather Underground, or Weathermen, headed by Mark Rudd and Bernadine Dohrn. The Weathermen were more radical and violent than the SDS, and chose to strike against institutions in a form of revolutionary terrorism against the U.S. government that caused other anti-war groups to distance themselves from the activity of the Weathermen.
Related Research Paper Topic Suggestions