Underground Railroad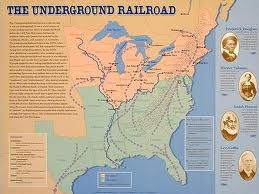 How do you start a Underground Railroad research paper? Our expert writers suggest like this:
The Underground Railroad was neither underground nor a railroad. Still, it was responsible for helping thousands of slaves find their way to freedom. This research paper will examine the activities of the Underground Railroad in Kentucky as well as slavery in America. It will review primary and secondary literature to describe several views regarding the development and success of this response to slavery prior to the Civil War. Like the Underground Railroad that operated throughout the south and northern border states, the Kentucky abolitionists helped many African-Americans escape the South and find freedom in the North.
Slave States and the Underground Railroad
The Underground Railroad first developed in the states that bordered slave states, where slaves traveled if they were fortunate enough to escape, with or without a railroad. According to Siebert, there were many that lived along these borders that did not agree with slavery, and although they were bound by law to return runaway slaves, they often preferred to help them escape. This research paper will discuss how this was the nature of the Underground Railroad. Slowly, the connections of safe house grew until slaves were safely smuggled form southern bondage to northern freedom as far away as Canada.
There were many euphemisms for slaves that traveled throughout the network of Northern pathways to freedom for escaped African American slaves. The most famous one was the "Underground Railroad". Beyond being a means for transportation for the fleeing slaves, railroad terminology served as code in communication between slaves and those running the trails to freedom. The following were well-known:
Stations = Homes and businesses where slaves could rest and eat
Stationmasters = Those that ran the stations
Stockholders = Contributors of money to the "Underground Railroad"
Conductor = In charge of moving slaves safely from one place to another
These codes were needed to keep the Underground Railroad a secret and insure the safety of freed slaves.
African slaves from Kentucky were among the first to find their way to Canada. By 1860, approximately 500 slaves escaped to Canada each year. Among the escaped slaves that carried the word of Canadian emancipation were Josiah Henson and Harriet Tubman, two escaped slaves. A Canadian physician named Dr. Alexander Ross made trips through Kentucky to inform slaves about Canadian laws forbidding slavery.
Levi Coffin and the Underground Railroad
Levi Coffin was a white man who became an abolitionist at a young age. In Reminiscences of Levi Coffin, he tells the story of what it was like to help slaves legally find their freedom. While living in Cincinnati, it was very unpopular to be an abolitionist, such as Coffin, yet was well connected with many people along the Underground Railroad. He notes that many slaves often came from Kentucky with hardly any clothes or provisions, and he and other families would help feed and cloth them for the trip farther north. Coffin writes that slaves would find ways to make a little extra money, then pay a white man to help them cross the Ohio River, out of Kentucky, and guide them to the underground railroad.
Related Research Paper Topic Suggestions
Abolitionist Movement - Abolitionist Movement research papers and custom essays outline the anti-slavery movement in America. Custom research papers on the abolitionists can be ordered immediately.
African Slavery - African Slavery research papers explore slavery from the point of view of the African Slave Trade.
Capitalism and slavery - Capitalism and Slavery research papers overview the economic reasons behind slavery. Often the text by Eric Williams, Capitalism and Slavery, is used and cited.
Elkins and Slavery - Stanley Elkins Slavery research papers or book reports can be written to be a comparative analysis of Elkins' historical interpretation of slavery with James McPherson's interpretation in Ordeal by Fire.
Freed Slaves and Land Ownership - Freed Slaves and Land Ownership research papers show the importance of land ownership when slavery was abolished in the South.
History of Slavery - History of Slavery research papers examine the accounts of slavery from all around the world.
John Browns Revolt Against Slavery - John Brown Research Papers examine Brown's plan to seize control of the town of Harpers Ferry and revolt against slavery.
Modern Day Slavery - Modern Day Slavery research papers discuss the types of modern slavery that continues to exist in certain parts of Africa and western countries.
Secession Theory - Secession Theory research papers discuss why the South wanted to Seceed from the North prior to the Civil War.
Slavery civil rights and the constitution - Slavery, Civil rights, and the Constitution Research Papers analyze the evolution of civil rights.
Slavery In America - Slavery in America research papers discuss the history of slavery in America and show that race was a major issue in slavery.
Slavery Laws - Slavery Laws research papers examine the slow to change America's perception of black people.
Slave Trade - Slave Trade Research Papers discuss the early days of European and American use of slaves and their economic influence across the Atlantic.
Slave Woman - Slave Woman Research Papers look at the post civil war era and the role of women. Paper Masters looks to the top historians to define what a slave woman was during the Civil War era.
South Carolina and Slavery - South Carolina and Slavery research papers look at secession theory and how it relates to South Carolina's stance on the slave trade.
The Missouri Compromise - The Missouri Compromise research papers on the legislative response to disagreements between pro-slavery and anti-slavery sections in the United States.