Aint I A Woman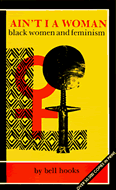 In the introduction to her book, Ain't I a Woman, Bell Hooks firmly establishes the contention that the liberalization of black women in the 19th century and 20th century has been riddled with complications.The two largest complications of this era for black women were:
While it is true that black activists have struggled to raise African Americans from their racist oppressors, Hooks contends that for black women the struggle to break the cycle of oppression was not only a racist issue but a feminist issue as well. She writes, "What had begun as a movement to free all black people form racist oppression became a movement with its primary goal the establishment of black male patriarchy". In an attempt to understand the struggle of the African American woman, Hooks has written this ethnographic history examining the roles that both sexism and racism played in the devaluation of the black woman. Although her focus is on the black female, she asserts that the significance of her research impacts the feminist movement and the liberation of all people. Students can order a custom written research paper on Ain't I a Woman from Paper Masters.
Ain't I a Woman and Racism
Chapter One, "Sexism and the Black Female Slave Experience," provides an historical overview of how the issues of racism and sexism impacted the daily lives of black female slaves. Hooks utilizes numerous examples from the every day lives of black female slaves working on the plantation and demonstratively illustrates how black women were subjugated not only to their owners, but also to the roles mitigated by black males within the slave population. In fact, Hooks notes that the black African female was often viewed as the "perfect" slave because they were, "accustomed to performing arduous work in the fields while also performing a wide variety of tasks in the domestic household".
As the chapter progresses, Hooks beings to expound on the psychological trauma inflicted upon black female slaves as a consequence of their sexuality. Hooks endeavors detailed accounts of how plantation owners sexually exploited black female slaves. She notes the mass sexual exploitation of enslaved black women, which became known as prostitution, reinforced the idea that black females were inherently wanton and that they were responsible for rape. Further, Hooks reports that often times, women were raped and brutalized in front of their male counterparts, who often stood by silently and watched.
Ain't I a Woman and Abuse
The psychological abuse suffered by black female slaves was not confined to rape and sexual brutality; Hooks additionally notes that public floggings of naked black women and the institution of a breeding system were also means of demoralization for black women. These acts, which not only degraded and oppressed black females, were often brutal and dehumanizing as well. Hook poignantly writes: "Undernourished, overworked women were rarely in a physical condition that would allow for safe and easy childbirth. Repeated pregnancies without proper care resulted in numerous miscarriages and death".
Related Research Paper Topic Suggestions