Wilma Mankiller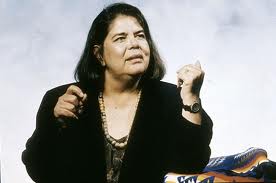 How do you start a Wilma Mankiller research paper? Our expert writers suggest like this:
Wilma Mankiller, former Principal Chief of the Cherokee Nation, was the first female in modern history to lead a major Native American tribe. As the leader of the Cherokee people she represented the second largest tribe in the United States. With an enrolled population of over 140,000, and an annual budget of more than $75 million, and more than 1,200 employees spread over 7,000 square miles, her responsibilities could be considered equal to that of a chief executive officer of a major corporation. Initially, those not wishing to be led by a woman opposed her candidacy, and there were death threats against her during her campaign. But before long Mankiller would win the respect of the Cherokee Nation, and make an impact on the culture, by staying focused on her mission - to bring self-sufficiency to her people.
Wilma Mankiller was born on November 18, 1945 in Tahlequah, Oklahoma. She was born the sixth out of eleven children in the Mankiller household. Like most of the families in the community of Rocky Mountain, her family was always poor. In her autobiography, A Chief and Her People, Mankiller writes, "We were not well off, at least when it came to money. Like many of the people in Adair County, we were really poor - 'dirt poor' is how they say it in Oklahoma. I suppose there are degrees of poverty just as there are degrees of wealth. If so, we were on the bottom rung of the poverty ladder".
Wilma Mankiller and her family lived in Oklahoma until October, 1956, just shy of her eleventh birthday. It was at that time that the federal government came up with a "policy of termination" of tribes to mainstream Native Americans. This policy was trumped up as a wonderful opportunity for Indian families to get great jobs, obtain good education for their kids, and, once and for all, leave poverty behind. In truth, however, the program gave the government the perfect chance to take the Indian people away from their culture and open up the vast Oklahoma territory to white landowners. Wilma's parents reluctantly decided to accept the government's proposal with the hope of pulling the family out of poverty. Mankiller writes, "I experienced my own Trail of Tears when I was a young girl. No one pointed a gun at me or at members of my family. No show of force was used. It was not necessary". She recalls the government using "promotional brochures showing staged photographs of smiling Indians in 'happy homes' in the big cities". Even as a child, Mankiller had her doubts about the relocation. These doubts were realized when the Mankiller family arrived in San Francisco and discovered that the situation was not as portrayed. The family would have to become used to living in the ghetto, dealing with racism, and the loss of a sense of community, along with dealing with the extreme culture shock of a big city. The sense of community would soon be rediscovered with the help of the San Francisco Indian Center, where the family met and spent time with other native people living in the area. It was here that Wilma Mankiller's activism would begin to form.
Related Research Paper Topic Suggestions