Germanamerican Immigrants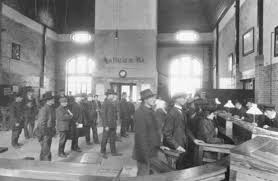 German-Americans represent the largest group of immigrants arriving in the United States in all but three of the years between 1854 and 1894. Before the end of the century more than 5 million Germans had arrived and in the twentieth century another 2 million came. They came from a wide geographic area and for a variety of reasons. They were a highly diversified group in terms of regional origin, religious and political orientation, education and socioeconomic standing.
Although conditions in the German states were not as bad as in Ireland, crop failures, inheritance laws, high rents, high prices, and the effects of the industrial revolution led to widespread poverty and suffering. Relatives and friends who emigrated first would write back and encourage others to follow. This led to "chain migrations" and group settlements. Fairly well-to-do farmers who saw a bleak future, poor ones with no future, paupers whom the authorities often paid to leave, revolutionaries after 1848, and many artisans, professionals, and some adventurers made up the spectrum of the German-American immigrants moving to the land of opportunity in the 1840's and 1850's.
Because they stood out from earlier immigrants, the 18th-century German-American Immigrants were the first large immigrant group to suffer from the fear and suspicion of those who had been here before and demanded that they assimilate into an existing culture. Because the German-American Immigrants resisted changing their customs or their language just to accommodate a new land, some Americans saw them as a threat. In fact, Benjamin Franklin complained that Pennsylvania was in danger of too many German-American Immigrants and their potential to inundate everyone else. He wrote in 1751: "Why should the Palatinate Boors be suffered into our settlements, and by herding together establish their Language and Manners to the Exclusion of ours? Why should Pennsylvania, founded by the English, become a Colony of Aliens, who will shortly be so numerous as to Germanize us instead of our Anglifying them, and will never adopt our Language or Customs".
Related Research Paper Topic Suggestions
American dream - American Dream research papers focus on one specific aspect of the American Dream or Experience. This can be done by examining works of literature, events in history or specific people that exemplify the American Dream.
Arizonas Immigration Law - Arizona's Immigration Law research papers look at both sides of the controversy that this law has caused.
Asian American Experience - Asian American Experience Research Papers discuss Asian culture in America and how it came about.
Cultural Divergence - Cultural Divergence research papers explain the tendency for cultures to become dissimilar over time.
Deculturalization - Deculturalization in America is a complicated and incendiary issue. Sociology research papers are available at Paper Masters.
Diaspora - Diaspora research papers examine the movement of various populations. Academia studies common different diasporas such as the European settlers in America, Africans displaced by the slave trade or Hispanic immigration into the United States.
Donald Trump On Immigration - Research papers on Donald Trump and Immigration discuss his various campaign promises with regards to immigration into the United States.
European Immigration - European Immigration research papers discuss the crisis of over immigration in Europe.
Immigrant Rights - Immigrant Rights research papers discuss how immigrants to any country are not without legal rights.
Immigration - Immigration research papers discuss the problem of immigration in the United States. Get topic suggestions and learn the facts on immigration in the United States from the writers at Paper Masters.
Immigration and social work - Immigration and Social Work Research Papers examine topics dealing with immigrants, social services and social workers.
Immigration and The Economy - With the current state of economy and many people out of work, it is inevitable that the blame would start to fall on immigrants.
Immigration Reform - Research papers on immigration reform discuss the controversial political subject that attempts to keep out those who seek to come to the United States illegally.
Irish Immigration - Irish Immigration Research Papers show that the main sweep of Irish immigration consisted of 1.5 million Irish who fled famine conditions and arrived between 1845 and 1854. Irish Immigration research papers are plagiarism free and custom written on immigration.
Irish In America - Irish in America research papers recount the Irish Immigration during the famine in Ireland during the 1840's.
Mexican Immigration - Custom written research papers on Mexican Immigration issues are very popular topics in political science courses today. The Wall that President Trump wishes to build is a great topic for a Mexican Immigration paper.
Mexican Immigration Laws - Mexican Immigration Laws research papers delve into the continuing hot-button political issue in the United States on illegal immigration from Mexico.
Migrants War On Terror - Migrants War Terror research papers illustrate how orientalist discourses are productive of certain identities and conceptions of migrant otherness that are rehearsed or deployed through mediation practices that seek to secure the nation/globe or imagine community in a certain way.
National Security and Foreign Policy - Research papers on National Security and Foreign Policy discuss one of the most important priorities when nations consider their foreign policy.
Negative Effects of Illegal Immigration - Negative Effects of Illegal Immigration Research Papers discuss an argumentative paper on immigration.
Polish Immigration - Polish Immigration Research Papers discuss the geographical themes of the impact Polish people on their new environment.
Pushpull Immigration - Push/Pull Immigration Research Papers delve into an example of an order placed for a history assignment with specifics in sources, and foot notes.
Sweatshop Warriors - Sweatshop Warriors Research Papers delve into an example of an order placed on a critical research paper based on articles and from the book Sweatshop Warriors by Miriam Ching Yoon Louie.
Undocumented Immigrants - Undocumented Immigrants research papers discuss the individuals who, for various reasons, cross national borders in violation of the immigration laws of the nation of entry.
United States Immigration - United States Immigration research papers examine immigration from the discovery of the New World to todays current immigration.