Right To Work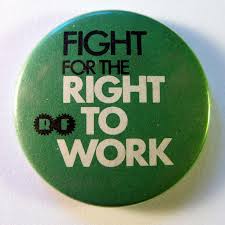 Right to work research papers overview the legal precident behind the concept of the right to work. The United Nations or the United States, both guarantee rights and protection under labor law. Learn more in a custom research paper on the right to work.
The right to work is one of the basic human freedoms outlined by the United Nations' Universal Declaration of Human Rights, first issued in 1948. Article 23.1 states that,
"...everyone has the right to work, to free choice of employment, to just and favorable conditions of work and to protection against unemployment."
Many people believe that basic human dignity is part of the concept in which people have a basic right to participate in work. Article 23 deals with the following work issues:
An individual's rights to work freely at the place of their choice
To have favorable working conditions in the place of employment.
All individuals are guaranteed the right to work and protection against unemployment.
Article 23 states individuals have the right to equal pay for equal work as well as the right to join trade unions for the "protection of his interests".
It was in the early 19th century that French socialist leader Louis Blanc coined the phrase "right to work." Blanc was agitating against massive unemployment in France, conditions that led to the French Revolution of 1848. However, the concept has been less accepted in the United States. During the 20th century, many states passed laws requiring various, sometimes arbitrary requirements for self-employed professionals. In 1980, economist Milton Freedman stated that a person should be free to enter any occupation as long as it was on a strictly voluntary basis.
Right to work laws exist in about 25 states in America. These laws largely attempt to restrict the organization of union. They do not seek to guarantee employment to job seekers, but are instead governmental regulation of labor unions, specifically prohibiting the exclusion of non-union workers. Many conservative business organizations support right to work laws.
Related Research Paper Topic Suggestions