Right To Work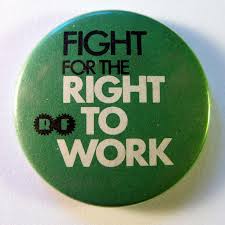 Right to work research papers overview the legal precident behind the concept of the right to work. The United Nations or the United States, both guarantee rights and protection under labor law. Learn more in a custom research paper on the right to work.
The right to work is one of the basic human freedoms outlined by the United Nations' Universal Declaration of Human Rights, first issued in 1948. Article 23.1 states that,
"...everyone has the right to work, to free choice of employment, to just and favorable conditions of work and to protection against unemployment."
Many people believe that basic human dignity is part of the concept in which people have a basic right to participate in work. Article 23 deals with the following work issues:
An individual's rights to work freely at the place of their choice
To have favorable working conditions in the place of employment.
All individuals are guaranteed the right to work and protection against unemployment.
Article 23 states individuals have the right to equal pay for equal work as well as the right to join trade unions for the "protection of his interests".
It was in the early 19th century that French socialist leader Louis Blanc coined the phrase "right to work." Blanc was agitating against massive unemployment in France, conditions that led to the French Revolution of 1848. However, the concept has been less accepted in the United States. During the 20th century, many states passed laws requiring various, sometimes arbitrary requirements for self-employed professionals. In 1980, economist Milton Freedman stated that a person should be free to enter any occupation as long as it was on a strictly voluntary basis.
Right to work laws exist in about 25 states in America. These laws largely attempt to restrict the organization of union. They do not seek to guarantee employment to job seekers, but are instead governmental regulation of labor unions, specifically prohibiting the exclusion of non-union workers. Many conservative business organizations support right to work laws.
Related Research Paper Topic Suggestions
Cicero - Cicero Term Papers examine one of the Roman Republic's greatest orators, whose surviving writings influenced the Latin language through the 19th century.
Deficit Spending - Deficit Spending research papers examine the type of spending that exceeds revenue, and can refer to spending by a government, corporation, or individual.
Federal Minimum Wage - Federal Minimum Wage research papers examine the minimum wage established by the United States government. Paper Masters custom writes all our research papers so that your project on the federal minimum wage is unique and only written for you.
Freedom - Freedom research papers look at the differing parameters for what Freedom means to individuals and societies.
Freedom of religion - Freedom of Religion research papers on the founding father's idea of freedom and religion. They include an analysis of the intent of the first amendment, the evolution of the concept of freedom of religion and implications of the amendment for today.
Human Rights - Human Rights Research Papers look at what natural rights are. Also, various forms of human rights can be discussed and overviewed in light of international or national definitions of rights.
Human Rights Violations - Human Rights Violations resarch papers discuss the human rights laws under the United Nations and look into some of the violations that continue to occur in today's society.
Human Rights Watch - Human Rights Watch research papers examine a non-governmental organization, founded in 1978 and dedicated to research and advocacy regarding human rights issues around the world.
Justice - Justice research papers discuss the concept of justice in society or in relation to the social contract. Research Papers are available at Paper Masters.
Macroeconomics - Macroeconomics research papers discuss Gross Domestic Product, unemployment, inflation, market stability and the expanding and contacting of business cycles.
Minimum Wage and Teen Unemployment - The outlook for employment among teens is not always positive or consistent.
Mistreatment of Political Prisoners In Cuba - Mistreatment of Political Prisoners in Cuba Research Papers delve into Cuba's background on abusing political prisoners and the charges of human rights violations by people.
Political Philosophy - Research papers on political philosophy discuss the blending of political science and philosophy, illuminating various theoretical topics such as liberty, law, rights, authority and the legitimacy of government.
Romneys Jobs Plan - In September, 2011, Republican Mitt Romney presented a comprehensive jobs plan he believes will reinvigorate the American economy and decrease unemployment.
Unemployment - Research papers on unemployment discuss the status of being without a job and unable to provide for ones livelihood.
Unemployment Rate - A research paper on the unemployment rate discuss the percentage of people who are unemployed in an area, which is figured by dividing the number of unemployed people by the number of people currently employed.
Universal Declaration of Human Rights - Universal Declaration of Human Rights research papers overview the United Nations adoption of the laws that protect basic human freedoms.
Utilitarianism - Utilitarianism research papers discuss the philosophy behind the utilitarian idea of morals based on utility.
Womens Rights In United Nations - Women's Rights in United Nations Research Papers look at the goals set out by various United Nations decision making bodies. Research Papers can be custom written at Paper Masters on any UN topic.