Dr. Kings Speeches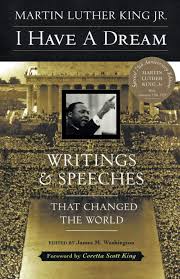 Research papers on Dr. King's Speeches examine the brilliant rhetorical style of one of the most influential men in recent history. The Civil rights movement was spurred on by his speeches; learn more about them in a research paper from Paper Masters.
While Martin Luther King, Jr.'s "I have a dream" speech is perhaps his most famous, there are other of his speeches that have also made their mark on society. The speech King made regarding "Beyond Vietnam" still impacts the black culture of the United States. In fact, polls assessing the attitude of black Americans regarding the war in Iraq note that there is little support.Often, King is quoted in many black churches and organizations to reflect the current beliefs about war.These words involve the "taking the black young men who had been crippled by our society and sending them 8,000 miles away to guarantee liberties in Southeast Asia which they had not founding southwest Georgia and East Harlem". Many black Americans continue to find wisdom in King's words even today as they continue to face prejudice and discrimination within the United States.
Possible Speeches to Do a Research Paper On
1962 - If the Negro Wins, Labor Wins
1968 - I have a Dream
1964 - The Quest for Peace and Justice
1966 - Don't Sleep Through the Revolution
1968 - The Other America
Even some of King's less famous speeches are utilized in the education of young blacks. Students are taught the concept of metaphors in helping them to understand King's message and how it might apply to them in their current lives. Additionally, students are encouraged to examine the power that exists in groups that ban together in order to make their country or their lives a better place. The King Center is a good place to get information about Dr King's speeches.
Learning from Dr. King's Speeches
One might conclude that individuals who actually heard such famous speeches were more likely to be influenced because they were already accepting of the political beliefs of King. That may be so, but there are reports of the dramatic influence of King's words upon individuals who were not looking for his influence. Kitsen is one such individual. She reports that the only reason she went to see King in his ministry was to hear the famous singer, Mahalia Jackson. As a young white, many of her friends told her that it was a black event - not for whites. Yet, she received more than she had come for during that event. The words of King had influenced her "attitudes about race relations".
Related Research Paper Topic Suggestions
1960s - 1960's research papers discuss Martin Luther King Jr., John F. Kennedy and the Vietnam War.
Activism - Activism term papers examine the use of this multi-faceted approach to promote social, environmental, political or economic change.
Civil Rights Acto of 1964 - Civil Rights Act of 1964 research papers examine the issues of equality and freedom that brought on the Civil Rights Movement in the 1960s.
Desegregation - Desegregation research papers discuss the process that ends the racial separation of people.
Desegregation of Schools - Desegregation of Schools research papers discuss the overturning of Plessy v. Ferguson, in 1954, in the Brown v. Board of Education decision, which made the desegregation of American schools a major priority towards achieving equality.
Dr. Martin Luther King Jr. - Dr. Martin Luther King Jr. research papers overview his life and examine his beliefs in essays such as Letter from a Birmingham Jail.
Gender Equality - Research papers on gender equality discuss the history and current state of gender issues in society.
Letter From A Birmingham Jail - Letter From A Birmingham Jail research papers outline the very skillful and expressive letter from Dr. Martin Luther King Jr.
Little Rock High School - Little Rock High School Research Papers examine the first school to integrate successfully in the South.
Long Hot Summers of The 1960S - Long Hot Summers of the 1960's Research Papers discuss the civil rights riots that occurred through the years 1964-1969.
Martin Luther King Jr. - Martin Luther King Jr. research papers overview King's life and focus on any aspect of the famous Civil Rights leader. Paper Masters helps explain the improtance of King to history and his contributions to the movement, both through his speeches and in his life.
Praying For Sheetrock - Praying for Sheetrock Research Papers look at a book by Melissa Fay Greene about racial discrimination.
Rosa Parks - Rosa Parks research papers discuss this key figure in the civil rights movement.
Slavery civil rights and the constitution - Slavery, Civil rights, and the Constitution Research Papers analyze the evolution of civil rights.
Title Vii - A research paper on Title VII examines one of the 11 Titles of the Civil Rights Act of 1964 that outlaws discrimination.
Warriors Dont Cry - Warriors Don't Cry Research Papers delve into an autobiography on the integration of African American students into white schools.
W.E.B. Du Bois - W.E.B. Du Bois research papers look at this African American scholar and compares him to others of the past such as Martin Luther King Jr. and Malcolm X. Custom Written History Research Papers can be found at Paper Masters.
Who Spoke Up - Who Spoke Up research papers discuss the civil rights movement and two apologists points of view on this event in history. Many Research Paper Topics are at Paper Masters to View.
Women of The Civil Rights Movement - Women of the Civil Rights Movement Research Papers on the women of the Civil Rights Movement - including Eloise Greenfield and Mary Church Terrell.