Neil Postman and Technopoly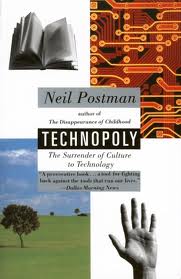 Neil Postman and Technopoly research paper due and don't know how to start it? How about like this?
Neil Postman is the eminent cultural historian of our time. Postman focuses on entertainment and the cultural phenomena that have changed our society into a couch potato society with inventions such as the television, video games and other electronic amusements. A research paper on Neil Postman will certainly want to cover his most prolifically known and cited works such as:
Amusing Ourselves to Death: Public Discourse in the Age of Show Business
The End of Education: Redefining the Value of School
The Disappearance of Childhood
Conscientious Objections: Stirring Up Trouble About Language, Technology and Education
These are just a few of Postman's most noted works. Choose one and focus on just one of his works, such as Technopoly: The Surrender of Cultural Technology, a relevant and timely study of technological change in society today. Technopoly is a great study in culture and Postman will impress any professor's course that you choose to use his work. The reason Postman is so impressive is that technology touches all of our lives and virtually any subject area is influenced by what technology has done. According to Postman.
"A new technology does not add or subtract something. It changes everything".
And he is absolutely correct. No matter what class you are assigned a research paper in, you can refer to Postman's Technopoly as to how the topic has been changed by technology. His remarkable insights serve to point out basic ways in which technology shapes everything we do today and every aspect of society. Neil Postman deserves a careful study and is a useful resource when writing virtually any research paper, from sociology to technology to even religion. No aspect of society remains untouched by Technopoly.
Related Research Paper Topic Suggestions