Hate Speech In The Us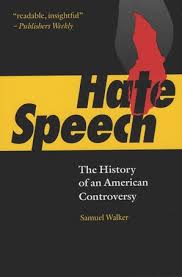 Hate speech in the United States can be examined in a research paper that explicates the laws and social mores against hate speech. Have our writers custom write you an essay on hate speech in any format you need.
One of the most valued rights in American society is the right to freedom of speech. Unfortunately, this right is often abused by individuals or groups who are intent on spreading messages of hate against others. Hate speech is generally defined as speech designed to foster prejudice and hate against a specific individual or group. It can be identified relatively easily by the fact that it uses discriminatory or inflammatory labels to insult and stigmatize a specific individual or group. A primary example from world history is the hate speech directed at the Jews by Adolf Hitler and Nazi sympathizers during the 1930s and 1940s. Today, hate speech is similarly directed at lesbians and gays in American society. Unfortunately, hate speech against most diverse individuals or groups is so common that it rarely garners any attention from authorities or society at large as unacceptable.
The fact that hate speech does not garner a great deal of attention in American society can be attributed to strong perceptions about freedom of speech. It is ironic that one of the main reasons that many people are reluctant to speak out against hate speech is because they believe that to do so undermines another individual's or group's freedom of speech. What must be considered however is that hate speech almost always works to undermine the basic right to live in American society without being the target of hate mongers.
Hate speech is defined as face to face, assaultive speech directed at an individual or small group. The following is considered hate speech:
Any words that are uttered with the clear intent of inflicting injury or inciting and immediate break of the peace will be considered hate speech.
Verbal utterances that are not words but inflict injury by their intent and known connotation, such as catcalls, will be considered hate speech.
Likewise, printed pariphinalia such as posters and fliers which support racist beliefs or contain injurious statements.

Individuals who choose to disregard policy on hate speech will have sanctions imposed upon them. On college campuses, incidences of hate speech may be reported to any university employee, but in all substantiated cases a report will be filed and held with the campus police. Repeat offenders may face more significant sanctions.
Related Research Paper Topic Suggestions
Antisemitism - Anti-Semitism research papers discuss the prejudice against, hatred of, and discrimination towards Jews as an ethnic or religious group.
Bigotry - Bigotry research papers discuss examples of bigotry and discrimination in today's society. Paper Masters can custom write any research paper on any social problem you need.
Concept of Race - Concept of Race research papers for sociology classes. Research papers on the concept of race are very relevant today, as the United States is still battling with race and equality in many respects.
Environmental Racism - Environmental Racism research papers examine the negative conditions that impact environments where people are marginalized or disenfranchised as a result of racial discrimination. Sociology research papers are available at Paper Masters.
Funeral Protests - Funeral Protests Research Papers look at the Westboro Baptist Church of Topeka and their mission to disrupt the funerals of American servicemen with shouting, placard waving and hateful speech.
Hate Crimes - Hate Crimes research papers examine the criminal acts motivated by prejudice.
Hate Crimes In The Us - Hate crimes are generally defined as violent acts against an individual or group that are motivated by prejudice.
Ku Klux Klan, white supremacist, - Ku Klux Klan Research Papers look at the beginning stages of this organization and the prosperous years of this organization.
Race - Race research papers examine the sociological aspects of race and ethnicity in America. Research determines that racism and racial divides are more a than ever.
Racial Discrimination - Racial discrimination research papers explore race discrimination in the workplace and are plagiarism free and custom written at Paper Masters.
Racial Discrimination In America - Racial Discrimination in America research papers examine prejudices of races in America.
Racial Discrimination In Housing - Racial Discrimination in Housing research papers can be ordered to your exact specifications. Research Paper help on sociology research papers on racial discrimination.
Racial Profiling and Its Effects On Airline Travel - Racial Profiling and its Affects on Airline Travel Research Papers examine an example of an order placed on an international policy with specific format instructions detailed.
Racial Segregation - Racial Segregation research papers discuss the division of society according to ethnic identity or the color of one's skin.
Racial Stereotypes - Research papers on racial stereotypes discuss the assumptions that people make about other individuals based strictly on their race.
Racism - Racism research papers offer research help on many aspects of racism in America.
Racism In The Railroad Unions - Racism in the Railroad Unions Research Papers discuss the time period known as the Gilded Age.
Systems of Inequality - Systems of Inequality research papers discuss how individuals can be affected by multiple forms of inequality simultaneously.
Xenophobia - Research papers on xenophobia discuss the fear of someone who is different or foreign.