Here Comes The Groom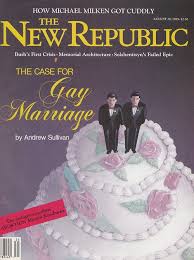 Research papers on gay marriage reflect on the fact that gay marriage in the United States has changed greatly over the past decade. Have Paper Masters custom write your research paper on gay marriage using Andrew Sullivan's Here Comes the Groom.
Andrew Sullivan's, Here Comes the Groom, takes a conservative approach on the subject of legalizing domestic partnerships and asserts that the best answer for society and for homosexuals is allow gay marriages instead of the ambiguity of the term "domestic partnerships". Sullivan uses the case of the New York rent-control case in which the court awarding the surviving domestic partner of a gay man the right to stay in the apartment of his deceased lover. The case illustrates the complexity of assigning the term domestic partnership to two individuals who cohabitate together.
A Groom VS Domestic Partnership
According to Sullivan, neither heterosexuals or homosexuals are pleased with the term "domestic partnership".
Heterosexuals dislike the idea of "domestic partnerships" because, as Sullivan states, it "chips away at the prestige of traditional relationships" and makes them less meaningful.
Homosexuals do not like the compromise of being merely domestic partners; they want the full recognition of the nature of their relationship to be confirmed legally and recognized as equal to married couples.
Sullivan's answer to both sides is to legalize gay marriages.
Homosexual Grooms
Sullivan asserts that homosexuals would be pleased with this decision because it confirms legally and socially the legitimacy of the homosexual relationship. Heterosexual conservatives would be please with the responsibility is places on gay people that, according to Sullivan, "that the same is expected of them". By legalizing gay marriage, Sullivan contends that society moves forward in making a conservative, humane decision concerning the difficulty of defining domestic partnerships.
Related Research Paper Topic Suggestions