Brandon Teena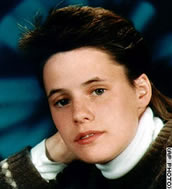 Sociology and psychology courses often examine issues related to gender. One interesting topic to write a research paper on is Brandon Teena. Paper Masters will custom write research on Brandon Teena and examine the film on his life or the gender issues that surround the famous case.
In a research paper on Brandon Teena, you will present a critical analysis of the recent fictionalized film account of the Brandon Teena case, Boys Don't Cry. Your research paper should be organized like this:
Begin with an overview of the factual details of the Brandon case.
Next, recount the origins of writer-director Kimberly Peirce's interest in portraying the events surrounding Brandon's death on film, and her creative journey from initial interest to completed work.
Then, analyze the film itself, including the plot, narrative, and acting performances.
Finally, discuss the unique challenges facing transgendered individuals in contemporary American society and the special resonance Brandon Teena's life and death holds for the transgender community.
Brandon Teena Born Female
Born anatomically female as Teena Brandon, Brandon moved from Lincoln, Nebraska to nearby small-town Falls City, Nebraska in 1994, where she began living as a man, reversing her first and last name to become Brandon Teena. By all accounts, Brandon successfully passed not only as a man, but also as a remarkably popular and sought-after new member of the community, charming neighbors young and old and quickly winning the affections of one of the most popular girls in town, Lana Tisdel.
After several minor skirmishes with the law, Brandon was finally arrested on a misdemeanor check forgery charge. While being processed for jail, law enforcement officers determined that Brandon was legally female, and proceeded to release this sensitive information to the local newspaper. One week after the public release of this information, Brandon was raped and assaulted at an area Christmas party by two of his male acquaintances, John Lotter and Tom Nissen. After the assault, the perpetrators forced Brandon to shower in order to remove physical evidence of the assault, and threatened to kill Brandon should he report the rape to authorities. In spite of these threats, Brandon immediately informed the local sheriff of the assault and rape.
Brandon Teena Courageous Report
Despite Brandon's courageous report, charges were not immediately brought against Lotter and Nissen, despite repeated phone calls of protest from members of Brandon's family and social circle. One week after the attack, Lotter and Nissen made good on their threats and tracked Brandon to a rural farmhouse, where he was in hiding, with several of his friends. Brandon was shot in the head and stabbed to death. The attackers also murdered Brandon's two friends in order to eliminate the possibility of their testifying at a later date. The only person living in the house was the nine-month-old son of one of Brandon's slain friends.
After the mother of one of the victims discovered the bodies and the crying infant the next day, Lotter and Nissen were promptly arrested. Both readily confessed to the crimes. Currently, Lotter awaits execution on Nebraska's death row, while Nissen is serving a life sentence without the possibility of parole.
Related Research Paper Topic Suggestions