Somatic Cell Nuclear Transfer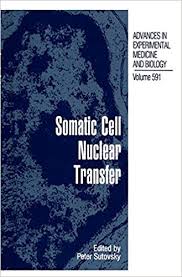 Somatic cell nuclear transfer (SCNT) is a laboratory technique in genetics and developmental biology in which a viable embryo is created from a body cell and an egg cell. The technique consists of taking an enucleated oocyte (an egg cell) and implanting donor nucleus from a somatic (body) cell. Somatic cell nuclear transfer is the primary means of reproductive cloning, and is the process by which Dolly the Sheep was created.
Somatic cell nuclear transfer is also one of the main areas of study in stem cell research. The aim of performing SCNT is to obtain pluripotent cells from a cloned embryo. Pluripotent stem cells are known as "master cells," able to make cells from all three of the body's basic layers, potentially able to reproduce any cell or tissue which the body would need to repair itself. Pluripotent cells are self-renewing, able to perpetually create copies.
As mentioned, somatic cell nuclear transfer is also used in reproductive cloning. It is theoretically possible to clone a human being in this manner, but using SCNT has had limited success in animal cloning, with high rates of fetal and neonatal death. Most researchers believe that it will not be possible to clone a human being through somatic cell nuclear transfer. The main drawback is that SCNT is highly inefficient, placing stress on both egg cell and introduced nucleus.
Related Research Paper Topic Suggestions