Dreaming From A Biological Perspective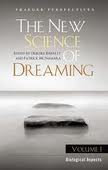 Research papers on dreaming from a biological perspective look at the function of dreams and how they serve a biological function. Paper Masters will custom write any research paper on dreaming you need.
Countless research studies have failed to provide all of the answers into the mysteries of sleep, what triggers and stops it, and how individuals move from one phase of sleep to another. The study of sleep and sleep patterns is important to understanding the biological causes of dreams. During the 1960's and 1970's modern neuroscientists began linking dreams to the firing of neurons and oscillation of chemicals in primitive parts of the brain during the arousal of rapid eye movement (REM) sleep. These theories conflict with earlier psychological theories and heighten the debate as to the causes, meaning, and functions of dreams.
Stages of Sleep - Dreaming
A science research paper defines a dream as "the recall of mental activity that has occurred during sleep". Sleep is characterized by several stages:
Stage 1 or sleep onset
Stage 2 or light sleep
Stages 3 and 4 or deep sleep stages
REM sleep is associated with high brain activity, rapid eye movements, and suppressed voluntary motor activity. Eighty percent of individuals awakened during the REM stages report dreaming compared to 40 percent of individuals awakened during the deep stages of sleep.
Dreams in stage 1 and 2 of sleep are less detailed and have fewer associations than dreams in other sleep stages. Dreams during REM phases tend to be highly bizarre and detailed with story and plot themes . REM sleep is further characterized by irregular breathing, increased heart rate and brain temperature and physiological arousal. During REM phases the brain is saturated in acetylcholine and serotonin levels plummet . The acetylcholine stimulates nerve cells at the same time as it strips muscles of tension and tone. In deep sleep, individuals are more likely to experience dreams associated with color or emotion. Dreams easiest to recall occur in the stages where electroencephalographic patterns are most like those in the waking state.
Many theories exist as to the purpose and function of dreams:
Some neuroscientists believe that dreams serve no function
Dreams are part of continuous thought processing or reprogramming of the central nervous system for the next day's conscious functioning.
Other researchers espouse that dreams function to solve both cognitive and emotional concerns.
A researcher from Paper Masters suggests that dreams are the body's natural healing system in that they reveal the individuals truest emotions.
Related Research Paper Topic Suggestions
Absolute Idealism - Absolute Idealism research papers discuss the philosophy that all life is part of a whole and, for the world to be known and understood by humanity, there must be thought and being.
Carl Jung Theories - Carl Jung Theories research papers discuss his theories on the 'balancing act' of the human psyche.
Consciousness Science - Consciousness and science research papers help to define consciousness and its various components in the realm of science or neural science.
Developmental Biology - Research papers on developmental biology discuss the study that dedicates itself to understanding the growth and maturation of living organisms.
Developmental Neurobiology - Research papers on developmental neurobiology delve into the study of the development of the brain and its various processes.
Edward Titchener - Edward Titchener Research Papers discuss how Titchener's theories were based on the concept that the human mind and all of its actions could be charted in the same fashion as the chart of elements used in chemistry.
False Memory Syndrome - False Memory Syndrome Research Papers delve into research on repressed memories of childhood abuse.
Five Senses - Five Senses term papers look into the physiological characteristics that allow an individual to receive outside stimuli.
Growth Mindset - Research papers on Growth Mindset discuss the the thoughts that determines plans for a person's future.
Human Mind - Human Mind Research Papers explore an example of an order placed for a psychology class, that gives you a list of pre approved topics to do your research paper on.
Iconic Memory - Iconic Memory research papers examine a type of visual sensory memory that the brain uses to remember images.
Intellectual Growth - Intellectual Growth research papers look at the four stages of intellectual growth in the human lifespan.
Mysterious Flame - Mysterious Flame Research Papers look at a book by Colin McGinn about his theory of naturalized mysterianism.
Nature of Human Perception - Nature of Human Perception Research Papers explore the different debates about the impact and influence of perception.
What Are Schemata - What are Scehmata Research Papers delve into what exactly schemata is, and goes into detail about different types of schema.