St. Jerome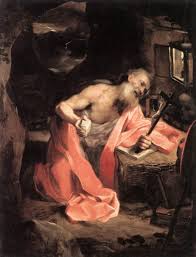 St. Jerome (c.347- 420 CE) was a Christian priest and theologian, known as a "Doctor of the Church." The early Church named four men as Doctors of the Church for their important contributions to theology: Pope Gregory the Great, St. Ambrose, St. Augustine, and St. Jerome. Jerome is best remembered for translating the Bible into Latin, known as the Vulgate translation.
Eusebius Sophronius Hieronymous was born around 347 at Stridon in modern day Croatia. He traveled to Rome to study, becoming baptized into the Church around CE 360. In 373 he set out with companions on a journey through Asia Minor, into Syria, remaining at Antioch for several years. It was in Antioch that Jerome decided to become an aesthetic, a monk living in the wilderness. In 378, Jerome was ordained, and traveled to Constantinople, and then to Rome again.
While in Rome, Jerome began revising the Latin Bible, based on the Greek manuscripts then in circulation. However, Jerome was later forced to leave Rome after allegations that he had an affair with a widow. Jerome retuned to Antioch, spending the remaining thirty-four years of his life there, writing the bulk of his literary output.
Jerome's work falls into four categories. The first are translations of Greek works, especially Biblical commentaries. The second are original Old and New Testament commentaries, and the third are histories. Fourth are his numerous letters.
Related Research Paper Topic Suggestions
Augustine - Augustine research papers overview the importance of Saint Augustine to the Catholic Church and to the Christian religion.
Cult of The Saints - The Cult of the Saints Research Papers look at a book by Peter Brown about the role of dead human beings in the joining of Heaven and Earth.
Life of Saint Augustine - Life of Saint Augustine essays are plagiarism free online essays that are custom written from Paper Masters.
Saint Augustine - Saint Augustine believed that nations or peoples sometimes had to be punished for threatening the natural order, for inflicting wrongs on others and disturbing peace.
St. Francis and Christ - St. Francis and Christ research papers compare the two religious figures and asceticism.
Women and Female Saints - Women and Female Saints Research Papers examine the female saints from the Bible and the 20th Century. Religion Term Papers are available at Paper Masters.