Life of Saint Augustine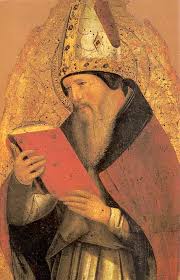 The life of the great Saint Augustine began on November 13, 354. Born at Tagaste of a respectable family he grew up with a Christian religion education. His family was not rich and his father was one of the city's curiales. It was his mother's Christian virtues that eventually led his father Patricus to receive baptism and therefore a holy death.
Augustine partook greatly of the pagan pleasures while in his teenage years. His father wished him to study forensics and while awaiting the collection of necessary funds for this schooling his idleness gave in to human pleasures and he fathered a son. He attempted to learn from his mistakes and by the age of nineteen he desired to break the chain of his wrongful doings.
Along the way to his devout life he fell into the teachings of the Manichaeans. Augustine claimed to be enticed by the philosophy of free faith and the explanations of the mysteries of nature. It wasn't until the age of twenty-nine and his move to Rome that he would rediscover the preaching and teachings of the Catholic faith. He was finally baptized in 387 on Easter. In 388 Augustine wrote an apology to the church entitled "On the Holiness of the Catholic Church". Augustine was ordained in 391 to the priesthood and became the Bishop of Hippo in the year 396.
Related Research Paper Topic Suggestions
Augustine - Augustine research papers overview the importance of Saint Augustine to the Catholic Church and to the Christian religion.
Cult of The Saints - The Cult of the Saints Research Papers look at a book by Peter Brown about the role of dead human beings in the joining of Heaven and Earth.
Saint Augustine - Saint Augustine believed that nations or peoples sometimes had to be punished for threatening the natural order, for inflicting wrongs on others and disturbing peace.
St. Francis and Christ - St. Francis and Christ research papers compare the two religious figures and asceticism.
St. Jerome - St. Jerome research papers look into the Christian priest known as the Doctor of the Church.
Women and Female Saints - Women and Female Saints Research Papers examine the female saints from the Bible and the 20th Century. Religion Term Papers are available at Paper Masters.