Repression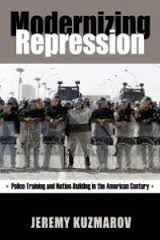 Repression exists in society in many forms. Research papers often discuss repression in light of works of literature or particular historical ages, such as the Victorian Age. Repression is most often linked to the act of repressing or of stifling someone by force. This can include feelings, memories, thoughts and desires. Therefore, repression can be integrated into life at many stages and in many different contexts.
According to Freud, personality develops from the maturation of growth and learning to overcome frustrations, conflicts, and anxiety. The Anti-cathexis restraining cathexis is called repression. Repression is a defense mechanism of the ego, just as projection and reaction formation are also. Fixation occurs as a gradual process and limits a persons development due to the failure to move beyond a particular stage of life. Regression is reversing the stages of life slowly. A stabilized personality is one in which "psychic energy has found more or less permanent and constant ways of expending itself in performing psychological work.
Repression is intrinsically linked to the Victorian age. Foucault's History of Sexuality Vol. I attempts to explain the mistake of the Victorian ages' appearance of repression as one of actual awakening to vast dynamic of sexuality. Foucault asserts that the confessional booth was the start of opening the doors towards explicit sexuality in the 16th and 17th Centuries. According to him, "An imperative was established: Not only will you confess your acts contravening the law, but you will seek to transform your desire, your every desire, into discourse".By the 19th Century, population regulation and sexual control of deviance became issues to be publicly discussed and scrutinized. The confessional atmosphere was transformed into an examination of the pathology of "unnatural" sexuality in public discourse. Sex became what Foucault called "scientia sexualis" and was labeled as having "limitless dangers that carried with it justified the exhaustive character of the inquisition to which it was subjected,".
Such strong assertion of the dangers of sexuality lead to Foucault's second main assertion in Volume I, that of the power of sexuality. By power, Foucault means the rules of society that are placed on an individual, making him or her subject to the one that enforces the rules or holds the control. Power in sexuality is held by many, mainly institutions that serve to judge sexuality. These institutions include the medical field in which sexuality is labeled as the afore mentioned "pathology"; the state that serves to control population through the monitoring of sexual practices; and in sending children to boarding schools to teach them how to be properly disciplined in matters of sexuality. What becomes of this method of controlling the nature of sexuality is the creation of pornographic tendencies. According to Foucault, repression encourages the need to be voyeuristic and play "games of sexual hide and seek".
With the ground work laid as to why repression exists, Foucault moves on to ask if man has moved beyond repression in recognizing the design of institutions. He calls up the common man, every man, to recognize and act against the institutions that seek to hold power over what should not be held captive, i.e. sexuality. Foucault admonishes, "The agency of domination does not reside in the one who speaks (for it is he who is constrained), but the one who listens and says nothing". While this may produce sexual repression, it has served other aspects of society well. For example, Foucault points to this power dynamics in capitalism and states that it allows workers to be subjected into production. Without this dynamic, capitalism would not have been possible.
Related Research Paper Topic Suggestions
Asexuality - Asexuality research papers look into the sexual orientation that is described as the lack of sexual attraction on the part of one individual towards others.
Bisexuality - Bisexuality research papers examine the complex issue of sexual orientation. Bisexual research explores gay and straight characteristics in sexual orientation.
Gay Culture - Gay Culture research papers explain the different subtopics involved in gay culture. Paper Masters provides all custom research, free of plagiarism, guaranteed!
Gender Blending Confronting The Limits of Duality - A book review of Gender Blending: Confronting the Limits of Duality or a Research Paper will discuss the attitudes of masculinity, and four male figures that have these attitudes.
Orgone Energy - Orgone Energy research papers overview the hypothetical life force first developed by Wilhelm Reich.
Queen Victoria - Queen Victoria research papers examine the rule of Queen Victoria and discuss her involvement in the politics of the Victorian Era.
Religion and Sex - Research papers on religion and sex discuss the tenets within religions that deal with the concepts of sex and sexuality.
Sexual Attraction - Research papers on sexual attraction discuss the various factors that contribute to one's sexual connection to another individual.
Sexuality and "the Other - Sexuality and "The Other" research papers explain how sex has been used as a mechanism or vehicle to create "the other" many times throughout history.
Sexual Orientation - Sexual Orientation research papers discuss the concept of gender when considering physical attraction to people of the same sex and/or different sex.
Significance of sexuality - Significance of Sexuality research papers discuss the significance of sexuality in today's culture.
Social Construction of Sexuality - Social Construction of Sexuality research papers examine the influence culture and society has on what defines sexuality.
Victorian Era - Victorian Era research papers illustrate that the 19th Century was ripe with materialism. A Victorian Era research paper often uses the example of Karl Marx in describing the modern world as a unity of disunity.
Victorian Life - Victorian Life research papers explain the lives of the people in the Victorian Era and how factors, such as wealth, effected them.
What Is Pansexual - What is Pansexual research papers examine the sexual orientation that involves the romantic attraction towards anyone regardless of gender or sex.
Women's Sexuality and Body - Women's Sexuality and Body research papers examine how women's sexuality has been a great interest through the ages. Her sexuality has been viewed as good and bad, and pregnancy and birth have been focal points. Sociology Research Papers are available at Paper Masters.