Ferdinand De Saussure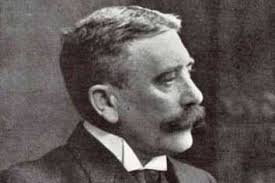 Ferdinand de Saussure (1857-1913) was a Swiss linguist who is considered to be one of the fathers of modern linguistics and semiotics, the study of communication through signs. Born in Geneva, Saussure studied at the University there, in Leipzig and in Berlin before obtaining his doctorate in 1890. Paper Masters can compose a custom written research paper on Ferdinand de Saussure that follows your guidelines.
In 1891, he began lecturing on Sanskrit and Indo-European language at the University of Geneva, a post he held until his death. His lectures were collected and published after his death, resulting in his most famous work Cours de linguistique generale (Course in General Linguistics). The work is considered to be the seminal book on linguistics in the 20th century.
Saussure and Language Theories
In his work, Saussure maintained that language could be seen as a formal system that includes different elements. Saussure believed that language was a system of signs that ultimately expressed ideas. The sign is comprised of the sound and the concept and language was also comprised of two parts:
The language - the abstract system
Parole - the act of speaking
Saussure's work also pushed the notion of laryngeal theory, which proposed historical sounds in the Proto-European language, called laryngeals, which have since disappeared from all languages descended from Proto-European.
Saussure and School of Thought
Despite his influence, Saussure's work became heavily criticized as outdated by the end of the 20th century. However, he is still cited as being one of the founders of the school of thought, upon which modern developments have been built.
Related Research Paper Topic Suggestions
Computational Linguistics - Research papers on computational linguistics focuses on the key areas of computational linguistics, including artificial intelligence, speech analysis or speech synthesis technology, computerized translation tools, technological processing of existing languages, and machine learning.
Language Development In Infants - Language Development in Infants research papers discuss language development in an infant as early as being in the womb.
Language Skills - Language Skills research papers examine the language skill development from infancy and early childhood, when human capacities for language learning are immense.
Native Language - Native Language Custom Research Writings look into how native language is the general basis for an individuals cultural or sociolinguistic identity.
Phonological Processes - Phonological Processes research papers discuss the predictable pronunciation "errors" that all English-speaking children make while they are developing the adult sound-system.
Phonology - Phonology research papers discuss the study of sound as it pertains to a language.
Saussure - Saussure research papers look into the life of Swiss linguist Ferdinand de Saussure, one of the most significant figures in linguistics and semiotics during the 20th century.
Semiotics - Semiotics research papers discuss the three branches semiotics: semantics, syntactics and pragmatics.
Varieties of Spoken English - Spoken English focuses on some general linguistic concepts and their interrelationships.