Operant Conditioning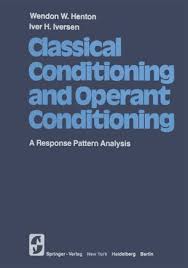 Operant conditioning is a type of learning where an individual's behavior is changed (modified) through antecedents and consequences. Unlike classical conditioning, best exemplified by the experiments by Ivan Pavlov with his dogs, operant conditioning deals with reinforcement and punishment in order to change behavior. One of the leading proponents of operant conditioning was B.F. Skinner.
Skinner's 1938 book The Behavior of Organisms, structured his entire scientific pursuit along the idea that human and animal behavior could be changed through operant conditioning. Skinner invented the operant conditioning chamber, in which pigeons or rats were isolated from external stimuli and given the freedom to make one or two simple choices. Behavior could be changed by reinforcement schedules, or punishment. A reinforcement is a consequence that increases a desired behavior. A punishment is a consequence designed to decrease behavior. Both reinforcement and punishment can be either positive or negative.
Human behavior can be modified through operant conditioning. First, a goal is stated. Second, behavior is monitored in order to see if the desired effect is occurring. Desired behaviors are then reinforced. Incentives to perform undesirable behaviors are reduced or eliminated. In this way, a person can change his or her behaviors for the better.
Related Research Paper Topic Suggestions