Extrinsic Motivation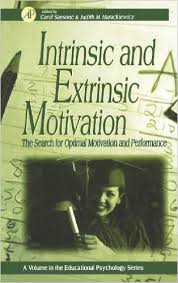 Psychology research papers on extrinsic motivation can focus on any of the reasons that explain why people behave the way they do. Custom written by our experts in the psychology field, your project is guaranteed to be done exactly as you need it.
Psychology is the study of human behavior. There are myriads of reasons why people behave the way they do. One of the theories used to explain behavior is motivation, what prompts the person to engage in a particular behavior. For the most part, social scientists have identified intrinsic and extrinsic motivation. Where intrinsic motivation comes from within, extrinsic motivation is the exact opposite.
Extrinsic motivation involves engaging in a behavior or activity for some reward.
Common extrinsic motivations are:
Money
Status symbol items
Food
One of the most common extrinsic motivations for many people is money. People are not only paid money for work performed, but are often rewarded with money for other behaviors, such as earning straight A's on a report card. On the other hand, there may be a punishment, or simply the lack of any reward, should the desired behavior not result.
Interestingly, social scientists have learned that overreliance on extrinsic motivation can lead to both overjustification, in that once rewards are removed the subject no longer has the desire to perform, and an overall decrease in intrinsic motivation. This is, of course, not a universal rule. In one study, elementary school children rewarded with a book for reading often demonstrated more intrinsic motivation in the future regarding reading behavior. Sports are classic example of extrinsic motivation. Competition, the desire to be better than others, as well as a cheering crowd and trophies are all extrinsic motivators.
Related Research Paper Topic Suggestions