Gerald Ford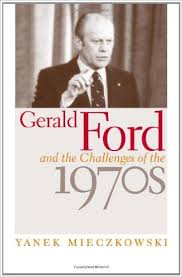 Gerald Ford (1913-2006) was the 38th President of the United States. He succeeded Richard Nixon in August 1974, when that President resigned following the Watergate Scandal. He holds the distinction of serving as both Vice President and President without having been elected to either office, as Nixon appointed him Vice President in 1973 following the resignation of Spiro Agnew.
Gerald R. Ford, Jr. grew up in Michigan, where he was involved in the Boy Scouts. He is the only Eagle Scout to become President. He played football at the University of Michigan, leading his team to national titles in 1932 and 1933. He turned down offers from the NFL in order to attend Yale Law School, graduating in 1941, but enlisting in the Navy following Pearl Harbor.
Following World War II, Ford entered politics, serving in the House of Representatives from 1949 to 1973. In 1963, he was a member of the Warren Commission, which investigated President Kennedy's assassination, and the following year was elected Minority Leader. During the Nixon Administration, he was key in passage of several important pieces of legislation, including the National Environmental Policy Act.
As President, Ford's brief tenure was marked by his controversial decision to pardon Nixon, as well as amnesty for Vietnam-era draft dodgers and detente with the USSR. When he died at age 93, he was the longest-lived US President in history.
Related Research Paper Topic Suggestions