President George W. Bush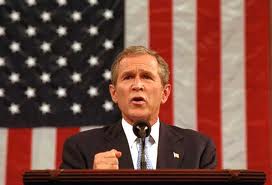 George W. Bush served as the 43rd President of the United States from 2001 to 2009. When writing a research paper on George W., you will want to focus on one particular aspect of his political career. Paper Masters will custom write you a research paper on President George W. Bush or you can use what you see here to get you started with your own writing.
Prior to serving two terms as President he served as Governor of the state of Texas from 1995 to 2000.
Facts regarding George W. Bush Jr.:
George was born to parents George W.H. Bush and Barbara Bush on July 6, 1946.
George W. Bush had four other siblings -3 brothers and a sister.
Bush attended Yale University and graduated in 1968.
A few years later he graduated from Harvard Business School and began working in the oil industry.
In 1977, he married Laura Welch who was a teacher and librarian. The young couple settled in Midland, Texas. In 1981, Laura gave birth to their twin daughters Barbara and Jenna.
President Bush Before his Presidency
After a failed attempt to secure a position in the House of Representatives in 1978, he returned to the oil industry and established some small, side companies. In 1998 he moved his family to Washington D.C. to help his father in his campaign for the Presidency. After his father was elected, he returned to Texas and purchased part of the Texas Rangers baseball team.
In 1994, Bush announced he would run for the position of governor of Texas. While governor, Bush helped decrease the tax rate, helped reduce domestic violence, pushed for improvements in education, and helped Texas become a lead state in wind power.
The Presidency of George W. Bush
In June 1999, Bush announced his intent to run for President of the United States. He was elected in 2001. His agenda for domestic improvement was overshadowed by the September 11th terrorist attack. After the attack, war was declared on Afghanistan. Over the course of his eight-year term, his popularity slowly dwindled and continued to get worse after the economic recession. Hurricane Katrina was the second disaster that happened during Bush's term. Bush was criticized for the federal governments response to the disaster.
Related Research Paper Topic Suggestions