Inaugural Address of John Kennedy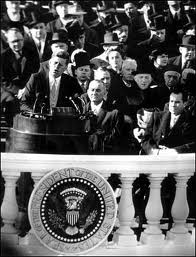 This is a topic suggestion onInaugural Address of John Kennedy from Paper Masters. Use this topic or order a custom research paper, written exactly how you need it to be.
When taking the oath of office, John F. Kennedy was at the helm of a nation entering a new era. Science and technology now had a profound impact on foreign policy and warfare; this would come to shape the world that he helped lead. Kennedy alludes to these new elements in his inaugural speech
Kennedy calls on all Americans to take responsibility for themselves and for their society
To have a sense of pride in their nation and to serve their country in everything they do.
One of the first lines in Kennedy's speech is, "The world is very different now." He is referring to man's ability to destroy the world with a simple push of a button-the nuclear capabilities of the two dominant powers, the United States and the Soviet Union. This, he says, has caused them all to rethink their outlook on the future, focusing not on the sustainability of one nation, but on the concept of global peace.
Kennedy was the first American president born in the 20th century, and he makes this known to the citizens of the nation. He, like them, is a member of a new generation, one that has seen their lives shaped by two global wars and the creation and implementation of a so-called doomsday device. He says that he, like them, is unwilling to watch human rights be violated, to allow security to be threatened, or to have the strength of this nation questioned. He implores the people of America to "ask not what America can do for you-ask what you can do for your country." He tells the people of the world to "ask not what America will do for you, but what together we can do for the freedom of man." He is the leader of a new generation in the free world, and he ensures listeners know this will temper his approach to the problems this new world will present.
Related Research Paper Topic Suggestions