Financial Crisis Inquiry Commission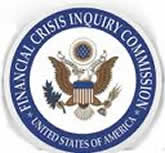 Research papers on the financial crisis inquiry commission discuss the commission's role in assessing blame after the financial crisis of 2007-2008. Have a research paper custom writing the commission's findings and understand exactly what happened the United States' worst financial crisis since the Great Depression.
After the great financial crisis of 2007-2008, Congress set up a Financial Crisis Inquiry Commission to accomplish the following:
Investigate those involved in the crisis
Get to the root of the problem of the financial crisis
Provide a clear accounting of how and why the financial crisis happened.
After nearly a year of meetings, the four Republican members of the committee did not sign onto the final draft but instead preempted the full commission with a partisan report blaming government intervention as the primary cause. This version of the report was an attempt to deflect blame from what would become the true cause of the crisis; the failure of regulation and excessive risk taking from America's now too big to fail banks. The Republican members knew that most of the blame would come down on their failed ideology of deregulation and lax government intervention. They place much of the blame on the housing and mortgage giants Freddie Mac and Fannie Mae.
The Crisis and Freddie Mac and Fannie Mae
Freddie Mac and Fannie Mae were large mortgage companies known as Government Sponsored Entities. These were privately operated and mostly privately owned but did have the support of the federal government. They were created to purchase mortgages from banks and hold them so the banks could make more loans. These companies suffered massive losses when housing prices began to slump in 2008. They had managed to avoid many of the truly toxic loans on the books of America's major banks. Towards the end of the housing bubble, the Wall Street banks realized the amount of money to be made simply by originating loans and handing off the risk to other people. Some of those people were the government's mortgage giants. It is in the interests of the Republican Party to lay blame on the government and it is expected that people will begin to hear this zombie lie very often as the 2012 Presidential race starts to heat up.
The full Financial Crisis
The full Financial Crisis Inquiry Commission's report lays the majority of the blame on the failure of regulation to ensure banks had sufficient capital to cover a major downturn and on the Wall Street banks themselves for taking on excess leverage and risky gambles. The crisis resulted in the largest economic downturn since the Great Depression and only massive government intervention was able to prevent it.
Related Research Paper Topic Suggestions