Exclusionary Rule Research Paper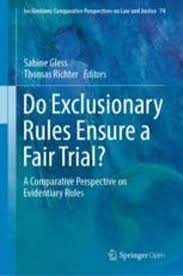 The Fourth Amendment to the U.S. Constitution protects Americans against unreasonable searches and seizures by government officials. The Exclusionary Rule, which mandates that evidence obtained in violation of the Fourth Amendment is inadmissible in a criminal trial, has been rigorously supported because many believe that the practice will inevitably deter law enforcement misconduct. Opponents of the rule argue, however, that when evidence is declared inadmissible in a court of law, society, as a whole, is suffering irreparable harm at the hands of the judiciary system. Criminals, that otherwise would have been locked behind bars, are being set free because evidence, that could have proven their guilt, is not being used in criminal trials.
The Debate - Exclusionary Rule
With so much debate surrounding the Exclusionary Rule, one begins to wonder if the rule is a boon or a bane to modern society, and if there could be an alternative. On one hand it can be effectively argued that ignoring the provisions of the Fourth Amendment when it comes to criminal activity is warranted because such individuals are a danger to society. On the other hand, it can be argued that an individual is innocent of a crime until proven guilty. Therefore, treating an individual as if he or she has no civil liberties is a direct violation for the ideals on which our country was founded. Wither the Exclusionary Rule? This decision is not an easy one as either answer to the argument has repercussions that can change the legal and judiciary landscape forever.
Related Research Paper Topic Suggestions