Augustine and Sextus Empiricus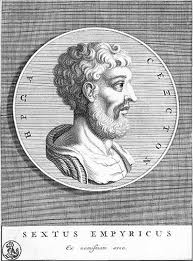 Debating the points of view of two different philosophers is an excellent idea for a research paper. Debating Saint Augustine and Sextus Empiricus requires a complex understanding of philosophy and religious notions. Have Paper Masters custom write your Augustine and Sextus Empiricus research papers so that you are assured the best explanation possible of their theories and ideas.
Saint Augustine argued vigorously against Sextus Empiricus, and his critique is two-pronged. He sought to show that certainty might be had in two ways:
Through logic against Sextus Empiricus
Through sense perception to thwart Sextus Empiricus' arguments
Augustine
Augustine considers Democritus's theory that the world is composed of atoms. The skeptic denies that there is any way to know whether or not this proposition is true. But Augustine points out either there is one world or there are many worlds, and that if there are many then either there are finitely many or infinitely many. In other words, he can be certain of the law of non-contradiction, and this law can be used to achieve certainty on many matters.
Augustine and Perception
Augustine then takes on the more difficult skeptical challenge: that we can never have knowledge through our senses, since these can be deceptive or faulty. But even if this is the case, says Augustine, there is something that is perceived. Even if our perception is in error we are in error about something, and, therefore, we know that a world exists. Against the argument that the world cannot be accurately perceived because our sensory experience could be a matter of dreaming or derangement, Augustine makes two points. One is that certain truths, like those of mathematics, survive dreaming and derangement. The other is that we have rational ways to distinguish normal perception from dreaming and deranged perception.
Related Research Paper Topic Suggestions