Fundamentals of Nursing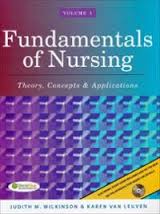 Nursing is one of the most important, growing, and dynamic fields of study today. Paper Masters has focused on nursing since our beginning as a field of study that our writers can assist students with. Paper Masters writes nursing research papers that focus on the fundamentals of nursing and all aspects of health care on a systemic level. Get help today on your nursing research paper that focuses on the fundamentals that are required for nursing students.
The fundamentals of nursing are essential for the nation's largest health care profession, people who take care of other people from birth through end of life. The American Nurses Association defines nursing as the protection, promotion, and optimization of health, the prevention of illness and injury, the alleviation of suffering and advocacy in the care and treatment of people.
What are the Fundamentals of Nursing?
The fundamentals of nursing, therefore, can be seen as based off of these very broad definitions. Nurses not only provide direct care, but are instrumental in patient education. Patients require specific information not only about their course of treatment, but also techniques that can allow them to live to their fullest health potential. Nurses are advocates, leaders, agents of change, managers, researchers, collaborators, and delegators. All of these fundamentals of nursing come together in one single person.
All of the fundamentals of nursing are built upon numerous nursing theories. Whether they are Grand Theories or Mid-Range Theories, for more than a century, from the following theorists:
Various nurses have sought to expand the size and scope of professional nursing through an understanding of the process of nursing. These fundamentals of nursing have made the nursing profession what it is today.
There has been a definite trend in nursing and nursing education over the last quarter of a century. The field has become more "professionalized" than was hitherto the case; this change has been brought about by an increasing emphasis on formal schooling and the fundamentals of nursing.Viewed in hindsight, this development seems to have been inevitable; the explosion in medical knowledge that we have witnessed over the last 25 years mandated it.That this trend will continue seems obvious.In order to be a truly effective nurse, in order to do one's job in a proactive, efficient, competent fashion, one will have to constantly update one's education. That is part of the reason that I have decided to pursue a master's degree; it will make me a "state-of-the-art" nurse. It is foreordained that the role of the professional nurse in the medical industry will become larger as time goes by. The scope of nursing in regards to the fundamentals of nursing will continue to expand when students are required to write research papers on the field of nursing. The modern educated, professional nurse now provides a great deal of the primary care that, a quarter of a century ago, was provided by doctors. I expect that this trend will accelerate. Nurse Practitioners have proved beyond a doubt that they can be as effective as doctors in primary care, psychiatric, geriatric, and a host of other settings.They can deliver a high quality level of care and they can do so in a cost-effective manner. As such they provide hospitals and clinics with a powerful tool in dealing with the problem of delivering good care at a feasible price.Because this is so widely recognized it will provide a powerful impetus to further enlarge the domain of activities subsumed under the term "nursing".
Related Research Paper Topic Suggestions
Advanced Practice Nurse - Research papers on an advanced practice nurse discuss how this set of nursing that is needed for healthcare facilities to provide efficient care to patients.
Ambulatory Care Nurse - Ambulatory Care Nurse research papers discuss the field of nursing that focuses on short-term treatments and long-term implications.
Chronic Care Model - Chronic Care Model research papers discuss the organizational framework designed to improve the care for individuals with chronic conditions. Research papers using the Chronic Care Model in nursing illustrate that there is a viable model of care that can be implemented in order for a patient to live successfully with a chronic disease.
Comprehensive Anesthesia Care - Comprehensive Anesthesia Care research papers discuss the comprehensive anesthesia care for postoperative nausea and vomiting on a female undergoing gynecological laparoscopic procedure/surgery.
Cultural Competence In Nursing - Research papers on cultural competence in nursing discuss what nurses are expected to handle patients of different races, backgrounds, cultures, socio-economics statues, religions, and sexualities.
Cultural Diversity In Nursing - Cultural Diversity in Nursing research papers discuss how nursing professionals need to understand the needs of people from different cultural backgrounds.
Delegation In Nursing - Research papers on delegation in nursing discuss the use of delegation to free up a nurse to handle more difficult cases or tasks, help in nurse education, or to save money for a hospital or doctor's office.
Dental Nurse - Research papers on a dental nurse discusses the special type of medical professional that provides assistance and performs certain tasks in dental practices.
Evidence Based Practice In Nursing - Evidence Based Practice in Nursing research papers look into its attempts to bring three aspects of quality into the nursing field: intervention services, targeted health outcomes, and consistency with current research evidence.
Forensic Nursing - Forensic Nursing research papers discuss how forensic nurses use forensic science to collect, investigate, and gather information about other cultures and also how they work to address issues of treatment and patient care after being victim of a serious crime.
History of Nursing - History of Nursing Research Papers discuss the beginning of hospitals in the 4th Century and how modern nursing came about.
History of Nursing Education - History of Nursing Education research papers custom written from Paper Masters for the Nursing Profession.
Mental Health Nursing - A research paper on mental health nursing discuss how mental health nurses work to evaluate, diagnose, and provide treatment options to patients with mental illnesses.
Mentoring In Nursing - A research paper on mentoring in nursing discuss the importance of mentorship in the nursing profession.
Minority Nurse - Minority Nurse research papers discuss the importance of a minority nurse to patients with different cultural backgrounds.
Neonatal Nurse Practitioner - Neonatal Nurse Practitioner research papers discuss the specialized nurse practitioners duty to the care of newborn infants.
Neonatal Nursing - Neonatal Nursing Research Papers examine a special branch of nursing that caters to newborn infants during the first twenty-eight days of life.
Nurse As Patient Advocate - Nurse as Patient Advocate research papers for nursing students are custom written.
Nursing Anatomy - Research papers on nursing anatomy discuss the importance of anatomy to the nursing profession in understanding and providing care to patients.
Nursing and alcoholism treatment - Nursing and Alcoholism Treatment research papers on how nurses can assist in alcoholism treatment and steps that nursing professionals can take in alcoholism treatment.
Nursing and Diversity - Nursing and Diversity research papers discuss how linguistic differences in the student body can impact the quality of communication.
Nursing Capstone - Nursing capstone projects are custom written by the former nurses that write for Paper Masters. Specializing in nursing topics, Paper Masters can make certain you complete your capstone on time and with outstanding results.
Nursing Care Plans - Nursing Care Plans research papers discuss the set of actions to be undertaken by a nurse in the treatment of a patient.
Nursing Clinical Skills - Nursing clinical skills research papers discuss the several critical skills that one needs to be an effective clinician.
Nursing Diagnosis Risk For Infection - Nursing Diagnosis Risk for Infection research papers discuss the concept of "risk for infection" within the nursing profession.
Nursing Fundamentals - Research papers on Nursing Fundamentals discuss the nursing that is focused on quality care, continuing education and an innate understand of patient care.
Nursing Job Market - Nursing Job Market research papers overview the nursing industry and discuss the opportunities for jobs in nursing.
Nursing Law - Research papers on nursing law discuss the conduct standards, practical applications, standard roles and responsibilities that all nursing professionals must uphold in the nursing occupation.
Pediatric Nursing - Pediatric Nursing Research Papers examine this field of nursing in which nurses care for infants, children, and adolescents.
Perioperative Nursing - Research papers on perioperative nursing discuss the roles of the perioperative nurses and how they work in tandem with surgeons and the staff of surgical departments.
Rural Nursing - Research papers on rural nursing discuss an area of the nursing profession when nurses provide healthcare services to traditionally low numbers of people who are very often spread out over large geographic distances.
Telehealth and Nursing - Telehealth and Nursing research papers discuss this relatively new phenomena and includes important consequences for the nursing professional. Technology and nursing research from Paper Masters can help you with your papers.
Transcultural Nursing - Transcultural Nursing research papers discuss the many challenges of communication and understanding in transcultural nursing.