Fundamentals of Nursing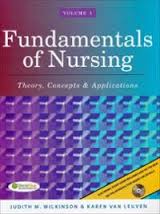 Nursing is one of the most important, growing, and dynamic fields of study today. Paper Masters has focused on nursing since our beginning as a field of study that our writers can assist students with. Paper Masters writes nursing research papers that focus on the fundamentals of nursing and all aspects of health care on a systemic level. Get help today on your nursing research paper that focuses on the fundamentals that are required for nursing students.
The fundamentals of nursing are essential for the nation's largest health care profession, people who take care of other people from birth through end of life. The American Nurses Association defines nursing as the protection, promotion, and optimization of health, the prevention of illness and injury, the alleviation of suffering and advocacy in the care and treatment of people.
What are the Fundamentals of Nursing?
The fundamentals of nursing, therefore, can be seen as based off of these very broad definitions. Nurses not only provide direct care, but are instrumental in patient education. Patients require specific information not only about their course of treatment, but also techniques that can allow them to live to their fullest health potential. Nurses are advocates, leaders, agents of change, managers, researchers, collaborators, and delegators. All of these fundamentals of nursing come together in one single person.
All of the fundamentals of nursing are built upon numerous nursing theories. Whether they are Grand Theories or Mid-Range Theories, for more than a century, from the following theorists:
Various nurses have sought to expand the size and scope of professional nursing through an understanding of the process of nursing. These fundamentals of nursing have made the nursing profession what it is today.
There has been a definite trend in nursing and nursing education over the last quarter of a century. The field has become more "professionalized" than was hitherto the case; this change has been brought about by an increasing emphasis on formal schooling and the fundamentals of nursing.Viewed in hindsight, this development seems to have been inevitable; the explosion in medical knowledge that we have witnessed over the last 25 years mandated it.That this trend will continue seems obvious.In order to be a truly effective nurse, in order to do one's job in a proactive, efficient, competent fashion, one will have to constantly update one's education. That is part of the reason that I have decided to pursue a master's degree; it will make me a "state-of-the-art" nurse. It is foreordained that the role of the professional nurse in the medical industry will become larger as time goes by. The scope of nursing in regards to the fundamentals of nursing will continue to expand when students are required to write research papers on the field of nursing. The modern educated, professional nurse now provides a great deal of the primary care that, a quarter of a century ago, was provided by doctors. I expect that this trend will accelerate. Nurse Practitioners have proved beyond a doubt that they can be as effective as doctors in primary care, psychiatric, geriatric, and a host of other settings.They can deliver a high quality level of care and they can do so in a cost-effective manner. As such they provide hospitals and clinics with a powerful tool in dealing with the problem of delivering good care at a feasible price.Because this is so widely recognized it will provide a powerful impetus to further enlarge the domain of activities subsumed under the term "nursing".
Related Research Paper Topic Suggestions