Battle of Nations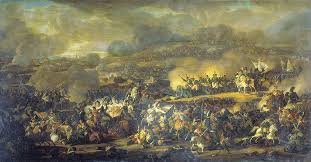 The Battle of Nations is another name for the Napoleonic Battle of Leipzig, in which a coalition of European powers fought against the forces of Napoleon outside of Leipzig in Saxony (modern Germany). The battle took place in 1813 and was the largest European battle until the First World War. Paper Masters can help you compose a custom written research paper on the Battle of Nations that follows your guidelines.
After Napoleon invaded Russia, he was forced to retreat back into central Europe. Numerous European powers, including:
Also included were several minor German states formed the Sixth Coalition in order to defeat the French Emperor.
By the beginning of October 1813, Napoleon's dwindling forces had retreated across the Elba and were formed around the town of Leipzig. Some 600,000 soldiers massed in and around the town during the four days of battle that marked the beginning of the end of Napoleon's reign. Overwhelmed, the French were outnumbered and outgunned from the beginning.
Battle of Nations
and France
The end result forced Napoleon to withdraw back into France. Some 100,000 casualties are reported from the fighting, making it the bloodiest in all of the Napoleonic campaigns. This was the first decisive defeat of Napoleon. He and his forces retreated into France, but were followed by the surging coalition forces, which invaded France in 1814 and forced Napoleon into his first exile, on the island of Elba in the Mediterranean.
Related Research Paper Topic Suggestions