Treatment of Retinoblastoma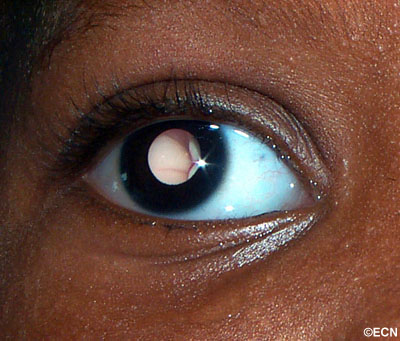 Treatment of retinoblastoma has evolved over time and is dependent on the age of the child, extent of damage noted in the patient and the presence of tumors in one or both eyes. In many cases, physicians will completely remove the affected eye called enucleation. Although, every step is taken to try and preserve the patient's vision, there are circumstances which dictate that eye removal is the best option. Other therapies are also undertaken to ensure that cancerous cells are not spread through the body and to help preserve some vision. These vision-preserving treatments, such as external-beam radiation, plaque therapy, cryotherapy, laser treatment, and chemoreduction are used to try to maintain some visual function in the eye . They are often used when there are tumors in both eyes and one has already been removed. However, there may be consequences for some of these patients later in life due to the nature of these treatments.
External-beam radiation is a process where a beam of radiation is directed at a tumor within the eye to try and shrink and kill the cancerous cells. This procedure is successful is reducing the size of a tumor. While this procedure can be effective in preserving some vision, there is potential for the radiation to cause other cancers elsewhere in the body or to impair bone growth or cause cataracts. Radioactive plaque therapy is where a plaque labeled with radioactive iodine is placed in the eye in an attempt to kill the tumor cells with the radiation. It is later removed. This also may lead to other eye problems, but can help to retain some vision. Laser therapy or photocoagulation, is a much less invasive procedure to treat retinoblastoma. It is most effective in eliminating small tumors. Cryotherapy is a process used to freeze small tumors within the eye. This procedure usually requires several treatments to kill all the tumor cells. Chemoreduction is the use of chemicals to target tumor cells and kill them. It is administered through the bloodstream and is effective in tumor reduction. This treatment is often used on patients where the cancer cells have spread to other areas of the body to prevent them from forming tumors elsewhere. This chemotherapy does have side effects and has been linked with the development of other cancers later in life.
The occurrence of retinoblastoma is not biased by gender or race. However, in patients with the familial form of the disease, there is a 45% chance that it will be passed on to their children. Thus, it is important for parents to understand these risks and ensure that their children are checked and treated at a very early age . Individuals with the sporadic form of the disease do not have this same risk of passing it on to their children.
Related Research Paper Topic Suggestions