Birth Control Side Effects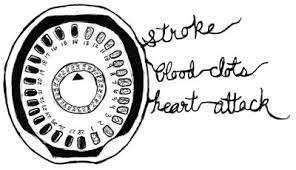 The use of birth control (contraceptives) has been revolutionary in the promotion of women's health around the globe, decreasing maternal death in the developed world by as much as 40 percent. Birth control also lengthens the time between pregnancies, increasing child survival rates, as well as helping to reduce teen pregnancy. One of the most popular forms of birth control is The Pill, which is a hormone-based contraceptive.
Side effects of birth control pills are possible, mild for some women and more severe for others. There are, in fact, both positive and negative side effects of birth control pills. Some of the positive side effects include decreasing acne, easing the symptoms of PMS, reducing heavy or painful periods, decreasing the frequency of menstrual migraines and reducing the lifetime risk of ovarian cancer.
Negative side effects may include decreased libido, an increased chance of blood clots, increased spotting, decreased milk production, faux PMS symptoms, and increased rates of depression. However, the risk of negative side effects can be weighed against the health benefits. Ultimately, there are other forms of birth control besides oral contraceptives, with different benefits and side effects. An informed conversation between a woman and her doctor regarding the benefits and side effects of any form of birth control is important.
Related Research Paper Topic Suggestions