Sudden Infant Death Syndrome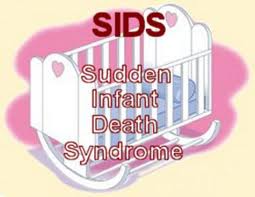 In 1963, little was known about the unexplained deaths occurring in children. In fact, so many incidences had been recorded that there was an international conference, held on the subject in Seattle, Washington, that year. Doctors were trying to determine what the actual cause of death was for these children. The questions they were asking themselves were if some of these deaths could have been prevented, if they had been better equipped and knowledgeable about an apparent new disease. Was the disease itself distinctive and unknown or was it a known disease which was changing and affecting children differently then ever recorded previously?
The rate of deaths had declined by 40%, from 1963 to 1992, after Pediatricians began recommending that parents place their newborns on their backs or sides for sleeping. This percentage was further aided in its decline, by the American Academy of Pediatrics (AAP) in 1994, when they started to run the "Back to Sleep" public awareness campaign.
Another major factor that had a huge impact on lowering the rate of SIDS related deaths was public awareness regarding second hand smoke and its affects on infants. In fact, Joyce Price, spokeswoman for the Baltimore-based SIDS Alliance said, "Statistically, passive smoke exposure is recognized as a significant risk factor for SIDS, but alone is not a cause for SIDS." She said this due to the fact that, although studies have been performed, they were all inconclusive but did suggests that 60 percent of all crib deaths could possibly have been avoided if pregnant women and newborns were kept away from second hand smoke. For example, "The Reuters report (a study endorsed by the Foundation for the Study of Infant Deaths, in England) determined that a two year period and studying 985 infants, 195 of them died. The ones who died had a parent who smoked. Regardless of what the study revealed the significant factor is, that there is still a large number of questions that are still not answered. Although second hand smoke was linked to SIDS, researchers are still not aware of what smoke does to the body to cause such a reaction. The fact is there are still a lot of unanswered questions, meaning there is still a lot of work to be done.
Related Research Paper Topic Suggestions