Premature Babies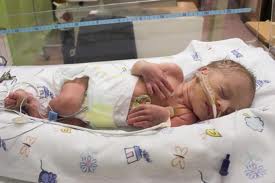 Premature babies are characterized as any infant born before thirty-seven weeks of gestation. There are numerous reasons for a premature birth and the complications can be significant, especially in premature babies that have not completely developed their organs. Premature birth remains one of the leading causes of infant mortality across the globe. Paper Masters can compose a custom written research paper on Premature Babies that follows your specific guidelines.
Reasons for the birth of premature babies may be some of the following:
Multiple babies
Previous premature babies
Short period of time between births
Smoking
Uterine or Cervical Abnormalities
Lack of Prenatal Care
In the development of a human fetus, maturity reaches at 37 weeks gestation. Between 34 and 37 weeks, the last of the organs development. Last of all are the lungs, and many premature babies require ventilation for survival. Pneumonia is very common in premature babies. At only 24 weeks of gestation, the survival rate for any premature baby is only fifty percent.
While the exact causes of prematurity remain elusive, several characteristics of the maternal background may play a role, including pregnancies at the lower and higher ends of a woman's reproductive years, generally before 18 or after 35. In the United States, African American women experience premature birth rates twice that of other Americans, and the causes are unknown.
Premature babies are at an increased risk of death during their first year of life, as they are characterized by low birth weight and several other health factors. Medical science has made great advancements in NICU (Neonatal Intensive Care Unit) care over the last few decades, leading to increased survival rates among premature babies in the developed world. While most premature babies develop normally, those born earlier have significant risks of childhood disabilities.
Related Research Paper Topic Suggestions