Prenatal Care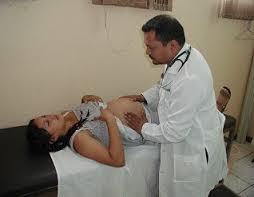 Prenatal care is the series of regular medical and nursing examination and treatment provided to women during pregnancy. Prenatal care is a type of preventative care, so that, with regular check-ups, both mother and child will remain healthy.
The availability of prenatal care has been shown to reduce miscarriage, birth defects, low birth weight and maternal death rates. In the developed world, prenatal care consists of monthly visits during the first two trimesters, a visit every two weeks between the 28th and 36th week of gestation, and weekly visits from the 36th week until delivery.
Prenatal care generally consists of a physical exam, where blood pressure, height and weight are recorded, as well as a pelvic exam and perhaps blood or urine tests. Around the 20th week of pregnancy, an ultrasound is performed in order to check on the fetus's development. While ultrasounds are popularly used to find out the sex of the baby, there are compelling medical reasons, such as the ability to assess risks to the mother and check for fetal malformation, for performing this procedure.
Prenatal care also takes place outside of the doctor's office. Most women in the developed world are prescribed prenatal vitamins and given nutritional counseling in order to maintain a healthy pregnancy. However, parts of the United States continue to have inadequate access to prenatal care for women of lower socioeconomic status, due to the availability and affordability of health care.
Related Research Paper Topic Suggestions