Prenatal Care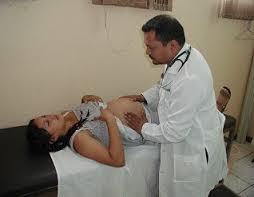 Prenatal care is the series of regular medical and nursing examination and treatment provided to women during pregnancy. Prenatal care is a type of preventative care, so that, with regular check-ups, both mother and child will remain healthy.
The availability of prenatal care has been shown to reduce miscarriage, birth defects, low birth weight and maternal death rates. In the developed world, prenatal care consists of monthly visits during the first two trimesters, a visit every two weeks between the 28th and 36th week of gestation, and weekly visits from the 36th week until delivery.
Prenatal care generally consists of a physical exam, where blood pressure, height and weight are recorded, as well as a pelvic exam and perhaps blood or urine tests. Around the 20th week of pregnancy, an ultrasound is performed in order to check on the fetus's development. While ultrasounds are popularly used to find out the sex of the baby, there are compelling medical reasons, such as the ability to assess risks to the mother and check for fetal malformation, for performing this procedure.
Prenatal care also takes place outside of the doctor's office. Most women in the developed world are prescribed prenatal vitamins and given nutritional counseling in order to maintain a healthy pregnancy. However, parts of the United States continue to have inadequate access to prenatal care for women of lower socioeconomic status, due to the availability and affordability of health care.
Related Research Paper Topic Suggestions
Anxiety During Pregnancy - Research papers on anxiety during pregnancy explain the impact on a person's life when the anxiety a person feels about their pregnancy becomes excessive.
Birth Control Side Effects - Birth Control Side Effects research papers discuss the various side effects in today's contraceptives.
Breast Feeding and Culture - Breastfeeding and Culture research papers differentiate the key distinctions between breastfeeding practices of Australian and Iranian women.
Midwives - Midwives Research Papers look at the history of this medical practice and where it originated. Custom research papers from Paper Masters.
Postpartum Depression - Postpartum Depression Research Papers discuss the symptoms of this disorder, and the support system that is needed to help with this disorder.
Preeclampsia - Preeclampsia Research Papers study the risk factors of this disease. The role of a nurse can also be overviewed in a custom project at the graduate or undergraduate level.
Pregnancy Complications - A research paper on pregnancy complications discuss the the various complications that can happen during any stage of pregnancy and how to prevent them.
Premature Babies - Premature Babies essays look into the numerous reasons for a premature birth of infants born before thirty-seven weeks of gestation.
Prenatal Drug Exposure - Prenatal Drug Exposure Research Papers discuss the effects of drugs and alcohol on fetal development.
Prenatal Hormones and Sexual Preference - Prenatal Hormones and Sexual Preference research papers custom written on cortisol and its link to congenital adrenal hyperplasia and luteinizing hormones.
Pros and Cons of Birth Control - Pros and Cons of Birth Control research papers discuss the pros and cons of all methods of birth control. Paper Masters custom writes each pro and con paper to whatever outcome you choose on the issue of birth control.
Skin To Skin Contact - A research paper on skin to skin contact discuss the importance of skin to skin contact of newborns to their parents and how it effects their development.
Ultrasound - Ultrasound Research Papers discuss the advancements in the medical field.
Women's Health - Women's Health Research Papers discuss why the medical community pays special attention to the biology of women and discuss the physical and psychological aspects of women's health.