Arguments Against Cloning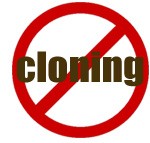 Cloning research papers often contain arguments against this new science and medical health procedure. It is a complicated issue that contains ethical and legal issues as well as the medical and scientific aspects. Have Paper Masters help you write a research paper against cloning, if that is the angle you need to propose.
What stands against cloning are arguments of a quite passionate nature. They are based upon questions of:
The morality of cloning
Issues of theology regarding cloning
When to show scientific restraint regarding cloning
Political positioning on the issue of cloning and of the nature of humanity
Of all the arguments against cloning, perhaps the most legitimate and directly applicable to those who are furthering the field, is the question of whether or not there should be a limit to the expansion of human knowledge.
Cloning and God
To this end, many groups have come forward to express concerns regarding whether or not cloning is tantamount to acting as God. In essence, what is being argued, is whether or not we, as humans, have the right to study, modify, and create life, even with the purpose being to improve and prolong that which is most precious to us. The argument to reduce or restrain the development of cloning research is one which significant elements of the scientific community publicly oppose. Consider the opinion of the International Academy of Humanists who see the efforts to ban cloning as "the Luddite option". Indeed, bans on scientific advancement are, in essence, artificial barriers to the advancement of human knowledge.
Cloning and Religion
The other, more frequent argument against cloning, comes from the religions of the world. Yet, the counter to their argument is just as clear, in the majority of religious texts, God demonstrates his power by putting down the efforts to reach him (i.e. the Tower of Babel). In the case of human cloning, we have actually recreated life, we have unlocked the final code, which is at the heart of our very physical existence and we are still here to talk about it. Could it be then that the religious argument would only hold up if, somehow, we were to unlock the secrets of the soul, that which ascends to Heaven, rather than of the body which remains behind and simply houses the soul?
Related Research Paper Topic Suggestions