Prostate Cancer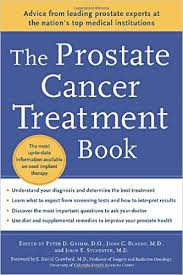 Prostate cancer is the most common form of cancer found in adult men, but can often be treated successfully. Learn more about prostate cancer research from the medical professionals that write for Paper Masters.
The prostate is a gland in the reproductive system of men, responsible for the creation of about a third of the volume of semen. Initially, there may not be symptoms of prostate cancer, but early warning signs include the following:
Frequent urination
Blood in the urine
Painful urination
More than 99 percent of all cases of prostate cancer involve men over the age of 50. In the United States, prostate cancer is more prevalent in African American men than Caucasians. Diets high in processed meat, red meat, and low intake of vegetables are thought to increase risk. However, hard evidence linking diet to prostate cancer is scarce.
Unfortunately, the medical community is split in regards to testing for early detection of prostate cancer. The only test that can fully confirm the presence of prostate cancer is a biopsy. However, rectal examination can allow a doctor to detect abnormalities in the prostate. Managing prostate cancer is often a matter of its stage. Many elderly men develop prostate cancer so slowly that treatment is not recommended. A person's age, general health and the possibility of side effects, which include erectile dysfunction and incontinence, must be weighed. However, aggressive forms of prostate cancer may require surgery, radiation, or chemotherapy.
Related Research Paper Topic Suggestions
Acute Myeleoid Leukemia - Acute Myeleoid Leukemia Research Papers delve into how this type of blood cancer develops.
Astrocytoma - Astrocytoma research papers discuss the cancerous tumors that occur in the brain.
Bladder Cancer - Research papers on bladder cancer look into the rare type of cancer that is common amoung white males of 55 or older.
Cancer - Paper Masters custom writes on any type of cancer you need examined. Oncology and treatment topics are covered as well as causes and etiology of various carcinomas.
Cervical Cancer - Research papers on cervical cancer look into the cancer characterized by an abnormal growth of cells within a woman's cervix.
Chemotherapy - Chemotherapy Research Papers examine the side effects, and how this treatment has helped treat cancer.
Children With Cancer - Children With Cancer Research Papers look at facts about childhood cancer, and ways to treat it.
Colon Cancer - Colon Cancer Research Papers discuss how this cancer develops.
Hodgkin's Disease - Hodgkin's Disease research papers discuss the type of cancer, also known as Hodgkin's lymphoma, that originates in the body's white blood cells.
Leukemia - Leukemia Research Papers provide research on this blood cancer and discuss the symptoms.
Lymphoma - Lymphoma research papers examine the four categories of lymphoma - Hodgkins, non-hodgkins, multiple myeloma or immunoproliferative.
Neuroblastoma In Children - Neuroblastoma in Children Research Papers examine the epidemiology of this disease.
Oncology - Research papers on oncology discuss the specific branch of medicine that deals with the prevention, diagnosis, and treatment of cancer.
Ovarian Cancer - Ovarian Cancer Research Papers research the causes of ovarian cancer.
Pancreatic Cancer - Pancreatic Cancer Research Papers look at a sample of an order placed on medical problem or disease. Custom Written Medical Health Research Papers.
Pathophysiology of Ovarian Cancer - Pathophysiology of Ovarian Cancer research papers discuss the known reasons of this cancer such as mutation or deletion of genes.
Radiation Therapy - This research paper on radiation therapy look into the cancer treatment that uses ionized radiation in order to target and control cell growth.
Signs and Symptoms of Ovarian Cancer - Signs and Symptoms of Ovarian Cancer Research Papers explore this silent killer since there are no clear warning signs.
Testicular Cancer - Testicular Cancer Research Papers look at the age at when it hits men, and also the factors of this cancer.
Treatment of Retinoblastoma - Treatment of Reinoblastoma Research Papers explore the different treatments that can be used on children, but it depends upon the age of the child.
What Are Tumors? - What Are Tumors research papers explore the mass of cells that make up what is known at a tumor. Paper Masters shows you how to write a research paper.