Black Death and Aids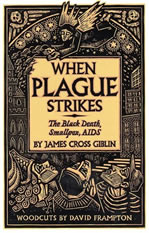 Medical health research papers on various diseases can be produced by comparing two diseases that are very similar. Paper Masters has writers that have been very successful at drawing comparisons between diseases such as The Black Death and AIDS.
Much like the Black Death, AIDS and HIV, the infection that causes AIDS, are a global reality that takes thousands of lives every year. According to the National Institute of Allergy and Infectious Diseases, (NIAID), cumulatively through the end of 2000 HIV/AIDS associated deaths worldwide were approximately 21.8 million. NIAID further reports that, "As of the end of 2000, an estimated 36.1 million people worldwide-34.7 million adults and 1.4 million children younger than 15 years-were living with HIV/AIDS".
Black Death and AIDS
Statistically, the AIDS epidemic is analogous to the Black Death that swept across the world during the fourteenth century. Despite the similarities in the number of deaths, however, it seems that when it comes to comparing the Black Death and AIDS, this is primarily where the comparison ends. While both epidemics have been responsible for global mass casualties, the pathology, care, social and psychological implication of the AIDS epidemic lie in stark contrast to the realities of the Black Death.
Pathology of the Black Death
As noted above, the pathology of the Black Death was one in which the virus was responsible for killing the victim. Unlike the Black Death, the HIV virus is not what is ultimately responsible for taking the life the infected individual. HIV is a blood borne virus that enters the bloodstream via bodily fluids such as:
Semen
Vaginal secretions
Blood
Saliva (In rare cases)
In short, AIDS is not easily transmittable. All evidence indicates that the virus cannot be transmitted trough air, water, food or casual body contact.
Related Research Paper Topic Suggestions