A Very Old Man With Enormous Wings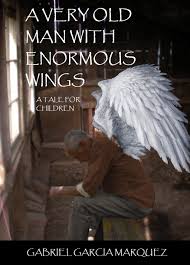 South American author Gabriel Garcia Marquez (1927-2014), winner of the Nobel Prize in Literature in 1982, is considered to be the finest Spanish-language author of the 20th century. One of his earliest short stories is "A Very Old Man with Enormous Wings," published in 1955 and included in the collection Leaf Storm and Other Stories. Understanding the chaos of political violence rocking Colombia during the 1950s is essential in viewing the story as a commentary on that nation's plight.
The plot of "A Very Old Man with Enormous Wings" concerns Pelayo and Elisenda, who live in a village where it has been raining for three straight days. Because the rain, the village is overrun with crabs, making their child sick because of the smell. One day, they find a winged old man, who speaks in a strange language. Their neighbor tells them that he is an angel, and so they force him to live in their chicken coop. Crowds come to see the angel, including Father Gonzaga, who believes the old man to be an imposter, as he does not speak Latin.
Eventually, the crowds begin to fade as their attention is drawn to the Spider Woman, a girl kicked out of her family's home and transformed into a tarantula. Unlike the old man, who does not communicate, the Spider Woman is willing to talk so long as the people feed her meatballs. The old man becomes very sick, but seems to recover with the spring, growing new feathers and eventually flying away.
Related Research Paper Topic Suggestions