Tale of Two Cities Characters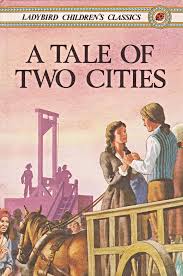 It has been noted that Charles Dickens 1859 novel about the French Revolution, A Tale of Two Cities, has fewer characters than is typical in his work. This was more than likely due to the serious nature of the subject. Dickens still manages to infuse the novel with many colorful and memorable characters.
Perhaps the two most important characters are Sydney Carton and Charles Darnay. The denouement of the plot revolves around these two men resembling each other. Carton is the cynical English barrister; Darnay is the idealistic French nobleman. Some critics have charged that they are representative of two sides of the same person, perhaps a literary stand-in for Charles Dickens himself, as the characters share his initials.
There is also Dr. Manette and his daughter Lucy. The novel opens with Dr. Manette's release from the Bastille, representing the cruelty of pre-Revolutionary France. Lucy is the central character who ties all the others together, marrying Darnay, and being loved by Carton so that he sacrifices himself.
Perhaps most memorable is Madame Defarge and her husband. They transform from wine shop owners to revolutionary leaders, representing the disenfranchised masses that rose up. Madame Defarge is notoriously cruel; having knitted the names of those she marked for execution for years. Madame Defarge is the embodiment of the radical Reign of Terror that swept France.
Related Research Paper Topic Suggestions