Middlemarch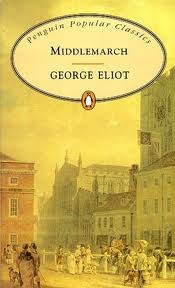 Research papers on works of literature are custom written at Paper Masters. Research papers on Eliot's Middlemarch can be ordered to focus on any topic you need explicated.
Mary Ann Evans (1819-1880), gained fame writing under the pen name of George Eliot and is regarded as one of the great writers of Victorian literature. Eliot lived with her mentor, George Henry Lewes, a married man whose wife refused a divorce. She considered him her husband, an implied criticism of the existing marriage and divorce laws in many of her works. When Lewes died in 1878, Eliot married John Walter Cross in May of 1880. Sadly, she died less than a year later.
Eliot's epic novel Middlemarch appeared in 1871, while a revised version came out in 1874. According to an author , "Everybody finds Middlemarch a great work," and in it, Eliot expresses a variety of viewpoints on marriage through descriptions of several relationships, including that of Dr. Tertius Lyndgate, and his wife, Rosamond, as well as that of Caleb and Susan Garth. Eliot also describes, in various detail the following marriages:
The Casaubon marriage
The Ladislaw marriage
The Bustrode marriage
The Vincy marriage
Brooke Casaubon's decision to give up the substantial estate of her late husband, so that she can marry Will Ladislaw, gives insight regarding the more meaningful reasons to marry. Mrs. Bulstrode's continuing support and care of her deceitful husband provides a good example of loyalty in marriage.
The marriage of Caleb and Susan Garth stands tall among those described in Middlemarch. Both Caleb and Susan have high moral standards. Both support each other fully, their support based on a deep understanding of each other. Susan Garth, an extraordinary role model, cares for her husband in a highly sensitive manner, knowing when to urge him on, when to scold, when to advise caution, and when to leave him alone. Susan Garth even supports her husband when he puts his family in financial jeopardy by backing Fred Vichy. She understands Caleb's love, kindness, and generosity, characteristics which make him both a good husband and a good father. So, while upset by Caleb's indiscretion, Susan conceals her distress, and continues supporting the man she loves.
Mary Garth, Caleb and Susan's daughter, benefits from their example. Her eventual marriage to Fred Vichy, whom she has loved since an early age, and by whom she has been loved in return, shows great promise of success. Mary uses her strength, common sense, and directness to motivate Fred, who tends to be somewhat lazy. Mary pushes him by saying, "You have a conscience of your own, I suppose" . Fred goes to college, with intentions of becoming a clergyman, but finds the proposition quite boring. He sees himself as being "at seas" and hopes to salvage his life through an inheritance. Mary, of course, refuses to let him get away with this.
Related Research Paper Topic Suggestions