Charles Dickens Oliver Twist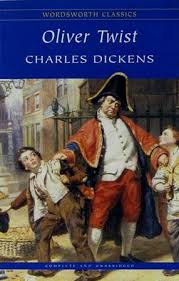 Oliver Twist is the second novel by famed English author Charles Dickens. Like many of Dickens' novels, Oliver Twist; or The Parish Boy's Progress first appeared in serialized form, appearing in monthly installments between February 1837 and April 1839.
The story concerns the orphan boy Oliver Twist, raised in a poor house. At the age of nine, Oliver runs away to London, where he meets the Artful Dodger, who then introduces the boy to the infamous criminal known as Fagin. Rescued by Mr. Brownlow, Oliver's escapades venture back and forth between the criminal underground and respectable society.
Dickens used Oliver Twist to provide social commentary, especially in regards to the treatment of orphans, the use of child labor, and the prevalence of children being recruited for use as criminals. Dickens describes scenes of abject poverty, commonplace in Victorian England. There is a recurring motif of stark injustice, frequently related through the symbolism of obesity. For example, when a starving Oliver asks for more food, he is punished by men who are fat.
The novel has had some controversy, largely through Dickens' character of Fagin, described largely as "The Jew." Fagin is among Dickens' more memorable characters, but continues to fit into racist stereotypes common at the time. Dickens later changed the text in later editions to remove such offensive references.
Related Research Paper Topic Suggestions