Alexandria Quartet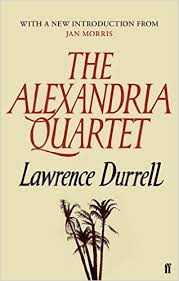 The literature writers at Paper Masters will custom write any research paper on one or all of the Alexandria Quartet novels. World literature is simple to understand if you've studied it thoroughly. Have our World Lit writers custom write for you.
The Alexandria Quartet is a series of novels by British writer Lawrence Durrell. The four novels, published between 1957 and 1960 present three different perspectives on the same events in Alexandria, Egypt, just before and during the Second World War. The fourth novel, set six years later, shows the change wrought by the events. The novels have been hailed as a literary success, often listed among the best English-language novels of the 20th century.
The four novels are:
Justine (1957)
Balthazar (1958)
Mountolive (1958)
Clea (1960)
Although British, Lawrence Durrell spent most of his adult life living outside of England. Until the outbreak World War II of , he was living on the Greek island of Corfu, forced to flee to Alexandria where he worked for the British foreign office. Justine, the first of the four novels, is told from the perspective of an Irish schoolmaster, who relates his romance with the title character. The city of Alexandria is as much a character in the novel as any of the humans. Balthazar, the second novel, where the narrator undermines all of the supposed facts presented in Justine.
Mountolive, the third novel, tells the story from the perspective of an English Ambassador, which once again reexamines the events of the first two novels. Clea, the fourth and final novel of the series, is set six years later, telling how Balthazar and Clea have reunited. The experimental nature of the Alexandria Quartet has found a devoted fan base since its publication.
Related Research Paper Topic Suggestions