Ahdaf Soueifs 1964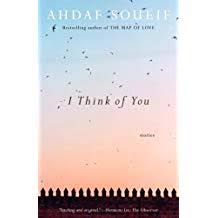 An Ahdaf Soueif's "1964" book report typically begins by identifying the author, title of book and publishing details in the introduction. Then a student should continue with the book report by stating the thesis or controlling idea of Ahdaf Soueif's 1964. Typically, in a book report, you will want the following structure:
The first paragraph is the summary of events that develop the thesis of Ahdaf Soueif's 1964.
In the body of the report, a student should include the key characters and concepts of at least three characters or personalities.
Finally, end with a conclusion of at least 1/2 page with final thoughts about the book and an interesting ending.

Paper Masters teaches college students how to write a well written research paper on Ahdaf Soueif's short story 1964.
Ahdaf Soueif's Short Story
In her short story 1964, novelist and political commentator Ahdaf Soueif recounts the journey of Aisha, an Egyptian teen, during her relocation from Egypt to London. Soueif's 1964 is autobiographical and based upon Ahdaf Soueif's personal experience as a Cairo-born young woman who moved to England as a teenager with her parents. Through Aisha's eyes, the author leads the reader to contemplate the themes of isolation and discrimination. Aisha observes the foreign-looking adults and children, gradually grasping the oddity of her own appearance. As she develops this self-awareness, Aisha also overhears discriminatory statements made by her mother and others. These statements reinforce Aisha's own negative feelings. While Aisha's parents are intelligent and sensitive, their actions and words disappoint the young woman as she gains a growing awareness of the world's imperfections. Aisha's new schoolmates mock her Muslim faith and make references to camels, making Aisha's isolation and disappointment complete.
I think of you, 1964
Published in a collection of short stories entitled I think of you, 1964 is the second installment in a series of three short stories about Aisha's life. The first story, "Knowing," narrates the five year-old Aisha's love of her native Egypt. The third story, "Returning," the adult Aisha returns to a Cairo apartment after the collapse of her marriage. Read together, these three short stories illustrate the loss of innocence that occurs during the transition from childhood to adulthood.
Related Research Paper Topic Suggestions
A Problem By Anton Chekhov - A Problem by Anton Chekhov essays summarize the short story by Russian author Anton Chekhov.
Araby James Joyce - Research papers on Araby by James Joyce discuss the world literature work by James Joyce telling the story of North Richmond Street boys, whose imaginative play belies their drab surroundings.
Barn Burning - Barn Burning book reports delve into a short story by William Faulkner which reflects the social conditions of the U.S. during the depression.
Barn Burning Summary - A summary on Barn Burning goes into one of William Faulkner's works about a fictional town in Jefferson Mississippi.
Blue Hotel - Blue Hotel research papers examine one of Stephan Crane's most disturbing short stories.
Cathedral - Cathedral research papers examine Raymond Carver's short story about a blind man helping another man see.
Herman Melville Bartleby The Scrivener - Herman Melville Bartleby the Scrivener research papers look into the various meanings found in the short story written by Herman Melville.
John Gardner - Research papers on John Gardner discuss the American author most known for his novels and short stories.
Junot Diaz - Junot Diaz Research Papers delve into a collection of short strories that provide a look into the culture of Dominicans in New York City.
Nobody ever dies - Nobody Ever Dies research papers examine the short story by Ernest Hemingway.
Short Stories - Short Stories essays discuss the form of literature that generally encapsulates a single episode or self-contained incident with a smaller cast of characters.
Short Story of Shiloh - Short Story of Shiloh Research Papers look at an example of topics that one can write on when doing research on Shiloh by Bobbie Ann Mason.
Snows of Kilimanjaro - The Snows of Kilimanjaro essays are custom written on Hemingway's short story. Study the interior monoluge or the characters within the novel to understand one of Hemingway's most well-known stories.
Soy La Avon Lady and Other Short Stories - Soy LA Avon Lady and Other Short Stories Research Papers discuss short stories that deal with race, gender, and sexuality issues.
The Bet By Anton Chekhov - The Bet by Anton Chekhov essays examine a short story written by Russian author Anton Chekhov in 1889.
The Blue Hotel Summary - A summary on The Blue Hotel discuss the short story by Stephen Crane about a young man who gets in trouble during a stay at the Palace Hotel.
The Cask of Amontillado - The Cask of Amontillado research papers analyze Edgar Allen Poe's short story about revenge. Paper Masters is a research paper service like none other.
Tolstoy Short Stories - Essays on Tolstoy's short stories discuss the author examines the human condition in his short stories and major works.
Under African Skies - Under African Skies Research Papers go into a collection of African short stories with a variety of different themes.
Valley of Dead Air - The Valley of Dead Air Research Papers discuss the short story by Gary Pak about a native Hawaiian man dies, and a smell that lingers over the valley.