Trauma Theory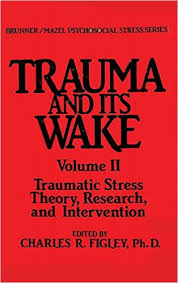 The term trauma theory is used to describe how traumatic events are used and processed in literature, historical text, and film. It is a pyschological element that is used to explain a character's motivations or life experience. Have one of our literature writers custom write a research paper that explores any novel or work of literature in light of trauma theory.
Trauma theory is a combination of the humanities and psychology. It also includes the following other genres:

History
Psychoanalysis
Sociology
Anthropology
Trauma theory looks at how writers use their own traumatic life experience to shape his or her writing. It also looks at how the characters in a fiction text deal with traumatic events.
In this context, trauma is defined as knowledge that a reader has into the character's mind or psyche as it processes and deals with trauma. This usually comes about by an introduction of a traumatic event like a death or some other violent act playing out in the plot. The character has to navigate the changes that happen after his or her reality has changed due to that traumatic event. The character might appear to be sad, fearful, confused, or disturbed. The event usually requires the character to face his/her own mortality and this new understanding affects the characters emotional state.
One literary strategy used by writers is the use of "testimony." The use of testimony in literature or historical stories puts the surviving character in the center of the traumatic action. The character acts as a witness to the events and provides order and an inside view of the events.
Some common examples of trauma that might be used in a text or film include trauma related to differences in race, socioeconomic class, and sexuality. Specific examples include murder, rape, incest, abusive marital partners, or historical events like the Holocaust, slavery, genocide, or war.
Related Research Paper Topic Suggestions