A Man Said To The Universe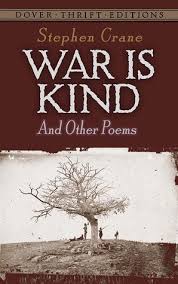 Understanding poetry is difficult. Paper Masters gives this brief explanation of how to understand Stephen Crane's poem "A Man Said to the Universe". We do this in order to help students with writing their own original literature research papers and give them research paper topic ideas.
In the poem "A Man said to the Universe" by Stephen Crane three distinct images appear as the reader relates man and universe as they fit into their cosmic role. The simplicity of the five line poem envelopes the following:
Man's perception of his place among the universe.
The universe's perception of its role in the order of life.
The relationship of both man and universe in regards to the enormity of the cosmos.
Collectively, these three components create a profound thought on creation.
Image of Pride
The first image of the poem is that of man's lofty observation of his own importance to the universe. Man is exclaiming to the universe, "Sir, I exist!"His call for the universe to take notice to him and his needs causes the reader to understand that man believes himself to be the most important object in the vast enormity of the universe.Crane illustrates this with his use of an exclamation point at the end of man's statement "Sir, I exist!" There is the image of man pridefully interjecting this announcement to the great universe as he prances through life thinking he is so significant to the order of life.
The Universe is Much Greater than Man's Perception
The next image found in the poem by Stephen Crane is that of the position of the universe in regards to man. The universe according to man is there for his benefit.However, the universe considers itself to be far greater than man's expectations by the response the universe makes towards man's statement of, "Sir I exist!"The universe replies, "The fact has not created in me a sense of obligation."This creates the image that the universe is much greater than man's perception.The universe does not place man above all else and Crane formulates the universe's response with a certain sarcasm that puts man in his place.
Related Research Paper Topic Suggestions