Diary of A Wimpy Kid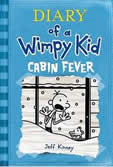 This is a topic suggestion on Diary of a Wimpy Kid - Book 6 - Cabin Fever from Paper Masters. Use this topic or order a custom research paper, written exactly how you need it to be.
In Jeff Kinney's latest installment of Diary of a Wimpy Kid, Book 6, Cabin Fever, Greg Heffley, eager for the holidays, accidentally vandalizes the school and is faced with the prospect of being sent to prison, or worse - facing his mother with the truth. The story begins as Greg is remembering past Christmases and pondering what he would like for the current holiday. Realizing that he has no money to purchase gifts, Greg decides to try to earn extra money by working in the neighborhood. Failed attempts at the following plague Greg:
Shoveling the snow from neighbor's driveways
Car washes
Selling a self-published newspaper
He then had the idea of hosting a holiday bazaar. Greg his best friend Rowley were hanging up signs on the outside school wall advertising the shindig, when it began to rain. As the boys pulled down the signs, they realized that the rain had caused the ink to stain the wall, thus beginning Greg's troubles for the remainder of the book.
Vice Principal Roy announces to the entire school that someone had spray painted the wall green and he would find and punish the criminal. After much angst, Greg admits to the principal that he was the one who caused the damage and ends his day headed home fearing time spent in the slammer. Fortunately, a blizzard prolongs what Greg believes is inevitable - that the police will come to his home to arrest him and, even worse, tell his parents of the crime. However, in typical Kinney style, Greg endures torment only to be saved at the last moment. The police do show up, but not for Greg, rather for the toy drive. While the blizzard prevented Greg's mother from learning of the vandalism incident, it did not prevent the Huffley family from enjoying the Christmas holiday.
Related Research Paper Topic Suggestions