Life of Frederick Douglass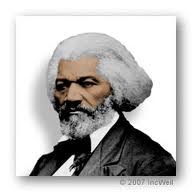 One of the most interesting topics for a literature research paper is to do a biography of a major literary figure. Frederick Douglass is both author and main character in this autobiography. It can easily be argued that Douglass is the most interesting autobiographical writer in history, as his life was one of struggle, oppression, privilege and prosperity. There are many topics one could focus a research paper on the Life of Frederick Douglass on. Paper Masters offers the topics on this webpage to help you decide what to write your research on.
This is a history research paper on the Life of Frederick Douglass, An American Slave. Theme, plot and the story line will be discussed. Read the Narrative of the Life of Frederick Douglass, An American Slave with an introduction by David W. Blight.
The following questions are a sample of what type of questions the reviewer will answer.
Douglass - A Slave
Prove that Frederick Augusts Washington Bailey was a mulatto by identifying his parents? Identify/Who = more than a name.
Where was he born?
Why was he legally a slave?
Who raised Frederick for his first 5½ years?
Why was he separated from his mother? At what age was Fred orphaned?
What are 2 reasons why the children fathered by their owner "are a constant offense to their mistress"? (mistress/wife of the plantation owner)
How long was Frederick Bailey held in slavery?
Even though it was illegal, tell in detail how Frederick Bailey learned to read and later to write.
What does Frederick Bailey say was the monthly allowance of food on Col. Lloyd's plantation?
Douglass's Escape
Your research paper on Douglass may show that the details of his escape into the North were kept secret at the time. In New York City he marries, his wife introduced almost as an afterthought. The move to New England, and the succession of jobs he takes there are as interchangeable as the names he assumes until he settles on the name history will know him by: Frederick Douglass.
It is his name that ultimately established this man as a free human being. No longer is he Christ or pilgrim, no longer the slave boy called Fred, he is now and forever Frederick Douglass. It is an "assertion of identity" and in identity is freedom: "freedom from slavery, [and] freedom from ignorance". With the naming comes his denouement: speaking at the Massachusetts Anti-Slavery Society. From that moment he is a free man and a symbol of freedom, a voice crying out of the wilderness for the freedom of his entire race.
Douglass's story presents a picture of a man held in chains. Slavery destroyed not only the physical body of a man, but his mind as well. His struggle creates a new gospel for the African-American Experience.
Related Research Paper Topic Suggestions