Gore Vidals Lincoln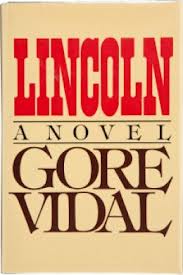 Gore Vidal has written a series of interesting historical novels in which he presents well-researched fictionalizations dealing with significant eras of American history. These books are written from the perspective of a very cynical and sophisticated observer of American politics. Lincoln is one of these books and it is a very interesting book, a book that contains a great deal of information about President Lincoln, the people around him, and the Civil War.
This book is not about Lincoln's entire life; it deals only with the period of time in which he was president. Nor is it entirely about Lincoln himself. There are many other characters in the book:
Stanton
Seward
Salmon Chase
Hay
Mrs. Lincoln
McClellan
It would not be incorrect to say that this book is as much about the Civil War as about Mr. Lincoln himself. It is a kind of "insider's look" at the persons and politics on the Union side of that war.
This book is valuable because Vidal is a fine writer and knows his subject very well. But all fictionalizations of history have certain problems and this book is no exception. One of the weaknesses is that the personality of the author sometimes interferes with the objectivity of the book. This is particularly true of someone like Vidal, who is a very opinionated man and who has a habit of looking at politicians as being not very admirable.
Abraham Lincoln is one of our most beloved Presidents because he ultimately had a clear moral center, which he based on the Founding Fathers, giving rise to the better angels of our American character.

In July of 1862, Lincoln finally moved to the position that something needed to be done about slavery. Lincoln also said that if he could win the war without freeing any slaves, or freeing some, he would do so. However, he recognized that a blow needed to be struck at the Confederacy, one that would weaken them internally and internationally. Therefore he drafted the Emancipation Proclamation. However, on the advice of his cabinet, Lincoln agreed to table the document. His reasoning was the he needed a decisive military victory to support the emancipation movement. Were he to issue it in July, it would seem the desperate act of a losing side. By holding on to the Proclamation until after Antietam, he elevated the Civil War into a moral struggle. In doing so, Lincoln led the government in a series of baby steps, rather than one disastrous leap.
Related Research Paper Topic Suggestions