Herman Melville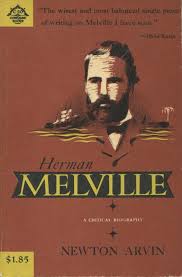 American writer Herman Melville (1819-1891) was the author of one of the most famous books in the American literary canon, Moby-Dick. He also authored numerous other novels and short stories, including Bartleby the Scrivener and Billy Budd. Moby-Dick, first published in 1851, is often held up as "the" great American novel.
Melville's most famous works include:
Mardi and a Voyage
Moby Dick
Paper Masters can compose a custom written research paper on Herman Melville that follows your guidelines.
Melville; The Early Failures
Melville was born in New York City and at the age of 20 first went to sea, working on a merchant ship between New York and Liverpool. Much of this experience formed the background for his writing, including his novel Redburn: His First Voyage, published in 1849. In 1841, he sailed to the South Pacific, deserting ship and living among natives, an experience that colored his novel Typee.
Moby-Dick, when it first appeared, was a commercial and critical disaster. His writing career suffered, and he published his last novel, The Confidence-Man, in 1857. He turned to writing poetry, but was forced to take a job in a customs house in order to provide a living for his family.
Melville and Moby Dick
Towards the end of the 1800s, there was a revival of interest in his work in England, and Melville began writing Billy Budd, which was unfinished at the time of his death. Melville's literary reputation surged in the 1920s, when critics reassessed his work and began hailing his writing as among the best in American letters.
Related Research Paper Topic Suggestions