The Awakening Summary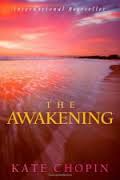 Paper Masters writes custom written summaries on Kate Chopin's The Awakening. Have our literature writers write your summary on Chopin's work and learn the best way to summarize The Awakening and the story of the Pontellier family.
Kate Chopin's The Awakening, first published in 1899, is one of the earliest works of feminist literature in American letters. Set in New Orleans and the surrounding Gulf Coast, it tells the story of Edna Pontellier and her struggles against late 19th century prejudices against women.
Vacationing at a Grand Isle resort on the Gulf of Mexico, The Awakening opens with the Pontellier family:
New Orleans businessman Leonce
Leonce's wife Edna
Leonce and Edna's sons: Edna spends most of her time there with her fried Adele Ratingolle, who constantly reminds Edna of her duties as a wife and mother. However, Edna secretly falls in love with Robert, who flees to Mexico knowing that their relationship is doomed.
Returning to New Orleans, Edna increasingly takes control of her own life, withdrawing from society and her obligations as a mother. Leonce fears that she is losing her mind. While he is in New York on business, Edna moves out, initiating an affair with Alcee Arobin. Edna also seeks out Mademoiselle Reisz, a musician whose freedom Edna wishes to emulate. Reisz is also in contact with Robert, whose letters confess his love for Edna.
Eventually, Robert returns to New Orleans, admitting that his trip to New Orleans was an excuse. However, Edna leaves to help Adele with the birth of her child, and when she returns, Robert has left a note saying that he loves her too much and cannot be with a married woman. In desperation, Edna returns to Grand Isle, where she drowns herself.
Related Research Paper Topic Suggestions